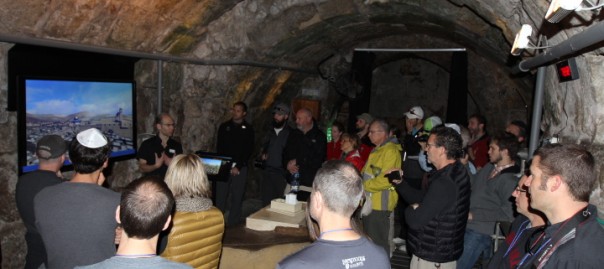 Walking through history Jan 16
Greetings from Israel!
We woke early this morning after arriving in Jerusalem last night. The excitement of being in this remarkable city was palpable amongst our group. We began the day with an extremely early start: our wake up call was set for 5:45am! This early wake-up call was a gift in that it would provide us the greatest amount of time to experience Jerusalem.
We began the day at the Temple Mount. We explored the tunnels along the Western Wall of the Temple Mount, prayed at the Wall, and ascended to the top of Temple Mount. Many of us were inspired by the location of the long-disappeared Temple, where the golden-covered Dome of the Rock currently stands. After that we literally walked through history in the City of David as we waded through Hezekiah's tunnel. Our next stop was the southern wall of Temple Mount where we could easily imagine Jesus teaching his disciples on the steps that ascended to the Temple.
To learn more about the Temple Mount, visit bibleplaces.com/templemount.htm
After those remarkable sites we moved on to two museums. At the Israel Museum our group was awed by both an incredible model of Jerusalem depicting its layout in the years just after Christ resurrection, as well as the Dead Sea Scroll exhibition in the "Shrine of the Book." We finished our travels today at Yad Vashem, the deeply sobering museum of Jewish Holocaust history.
It was a remarkable day, filled with indelible experiences. Thank you for your prayers and support! We look forward to returning home soon, enriched by all we've seen and experienced in this Land.
Grace & Peace,
Jim Black
New York, New York
Today's Audio
Ronen teaching at the Temple Mount
Ronen teaching at Yad Vashem
 
Today's Photos