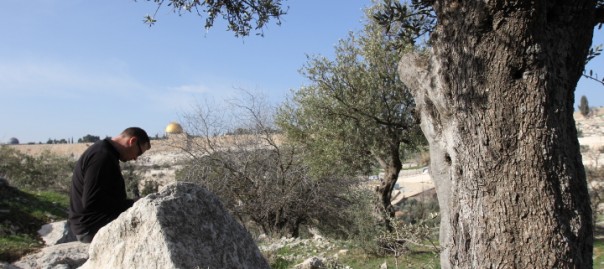 Walk as He Walked Jan 17
Say Wow! Say Wow again!
I can't believe our time in Israel has come to an end, It has truly been a life changing experience.
We began our morning on the Mt. of Olives. Walking toward the Temple Mount, we stopped in an Olive grove, a garden that may have looked much like the garden of Gethsemane where our Lord was betrayed. Sitting in the cool of the morning amongst the olive trees we had time to reflect on all that we have seen and experienced in this land and the cost Christ paid for our salvation. We continued down the Via Dolorosa and through the crowded streets and market place with all the noise and smells and color of this Middle Eastern city. From the Via Dolorosa we made our way to the pool of Bethesda where Jesus healed the lame man in John 5. And then we did a bit of church hopping. We stepped inside the Church of the holy sepulcher, the traditional place of the crucifixion and tomb of Jesus as well as a few other churches.
If I could use one word to describe the collection of churches we saw…well I couldn't use just one word but if I could use six words it would be "pomp and circumstance, ceremony and spectacle" Oh wait! I know the word…."BLING" Whether it is the Dome of the Rock with its gold dome and its beautiful mosaic walls or the Church of the Holy Sepulcher with all its ornamental splendor It seems that often monuments and memorials outshine the thing it is meant to represent.
God has shown us many things and taught us many lessons as we have walked through the land of Bible but the thing that has most captured my heart is the people. Everywhere we have gone I have seen people who are desperate to be embraced by God. As I sit here in the hotel lobby my last few hours in Jerusalem I am surrounded by people, people of different countries and different languages, all created to be in relationship with Jesus the Jewish messiah.
I have walked where Jesus walked now may I walk as Jesus walked.
How beautiful upon the mountains
are the feet of him who brings good news,
who publishes peace, who brings good news of happiness,
who publishes salvation,
who says to Zion, "Your God reigns." Isaiah 52:7
Joey Weathers
Roots Christian Fellowship
Tehachapi California

Today's Photos