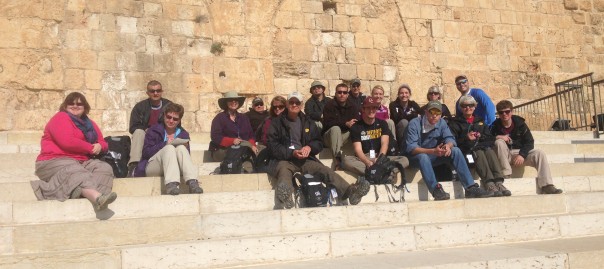 Jerusalem Jan 9
Today we left the countryside for the city of Jerusalem. Many in the group had their eyes opened to the busyness and diversity of Jerusalem. We began our day walking through the old city. We then went up to the temple mount and discussed with the Jerusalem Temple once stood. We also learned about the dome of the rock as well as al-Aksa mosque. After the temple mount we went to the southern steps of the temple. There we learned about Pentecost in the role of the Holy Spirit in our lives and in our churches.
The western flight of stairs leading to the main entrances of the Temple Mount was 200 feet wide.  Excavators uncovered the easternmost part of this staircase with its alternating long and short steps.  Some suggest that the fifteen long steps may have been one of the locations where pilgrims sang the fifteen Psalms of Ascent (120-34) as they went up to worship.
Learn more about the Southern Steps at bibleplaces.com/southerntm.htm
Next we toured David's city of Jerusalem. This included a walk through Hezekiah's tunnel. This tunnel travels 500 yards underground. It was a challenge for something a group who do not like take spaces, but they all made it!
A 1750-foot (530m) tunnel carved during the reign of Hezekiah to bring water from one side of the city to the other, Hezekiah's Tunnel together with the 6th c. tunnel of Euphalios in Greece are considered the greatest works of water engineering technology in the pre-Classical period.  Had it followed a straight line, the length would have been 1070 ft (335m) or 40% shorter.
Learn more about Hezekiah's tunnel at bibleplaces.com/heztunnel.htm
After lunch we visited the Western Wall of the temple. Some of us went up to the wall and prayed there. We then toured underground tunnels to see Herod 's use of stone in the building of the temple mount.
An especially large course of stones is visible on the southern and western walls today.  On the west the "Master Course" consists of four stones, the largest of which weighs 570 tons and is 44 feet long, 10 feet high and 12-16 feet deep.  The next largest stone in the wall is a mere 40 feet long.  The largest stone in the Great Pyramid weighs 11 tons. Learn more about the Western Wall at bibleplaces.com/westernwall.htm
We then traveled to the Israel museum there we saw a large model of the city of Jerusalem during the time of Jesus. We also saw some of the Dead Sea Scrolls on display. Some of us went touring in the new city of Jerusalem to see modern Israelis' life.
I can't believe how quick our trip is going. The group is doing great. Just a few more big days.
Blessings
Chad
Today's Photos