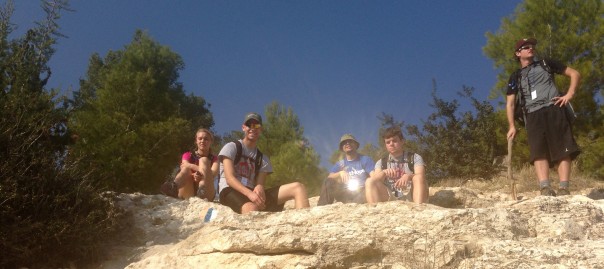 Hitting the ground running Jan 3
Day 1 is in the books! We had an exciting day visiting a lot of sites. We first travelled to Gezer and learned about the shephelah and standing stones. We also traveled to Beth Shemesh where we talked about the danger of sin by studying the life of Sampson. We also toured an underground water cistern here.
GEZER
A series of ten standing stones were uncovered in early excavations of the site (they were found laying down and re-erected by archaeologists). Poor excavation makes these masseboth difficult to date, but most archaeologists believe they are from about 1500 BC, in the heyday of the Canaanites. Some of the stones are more than three meters high. The stones may have represented a treaty alliance (cf. Exod 24) or have been a cult center (cf. Lev 26).
Read more about Gezer at www.bibleplaces.com/gezer.htm
Beth Shemesh
Israeli archaeologists recently uncovered the largest Iron Age reservoir known in Israel. With a capacity of 7,500 cubic feet, this reservoir could have supplied the town's inhabitants with water to survive a three-month siege. This underground storage basin is composed of two long rooms in the shape of a cross and according to the excavators is "one of the finest examples of water engineering and management in the kingdom of Judah."
Read more about Beth Shemesh www.bibleplaces.com/bethshemesh.htm
From Beth Shemesh we hiked up a hill to Azekah which overlooks the valley of Elah, the traditional battle field of David and Goliath. It was fun learning how God used the talents of an unexpected boy for his kingdom. We talked about our own gifts and how we could use them for God. Finally, Chad let us eat lunch.
Valley of Elah
The Brook Elah is famous for the five stones it contributed to the young slinger, David. Some surmise that David chose five stones instead of the one needed in case he needed to face Goliath's four brothers.
Read more about Valley of Elah www.bibleplaces.com/elahvalley.htm
After lunch we went to the caves of Adullam, where David hid from Saul and other Jews hid during times of persecution. These small caves really pushed some of us to our limits! Those were some tight spaces! We talked here about the persecuted church.
Finally we visited the city of Lachish and tried to comprehend the bloody battles that had taken place there. We then drove down to the Dead Sea to our hotel. We were told that the drive took about 1 and a half hours. However only the driver and Chad really know since everyone else in the bus was sleeping.
Tel Lachish

Identified first as Lachish by Albright in 1929, the tell was excavated by James Leslie Starkey 1932-38 and by Tel Aviv University 1973-87.

Lachish is generally regarded as the second most important city in the southern kingdom of Judah. It enters the biblical narrative in the battle accounts of Joshua, Sennacherib and Nebuchadnezzar.
Read more about Tel Lachish at www.bibleplaces.com/lachish.htm
We are off to bed. The rumor is we have some hiking tomorrow!
Today's Photos