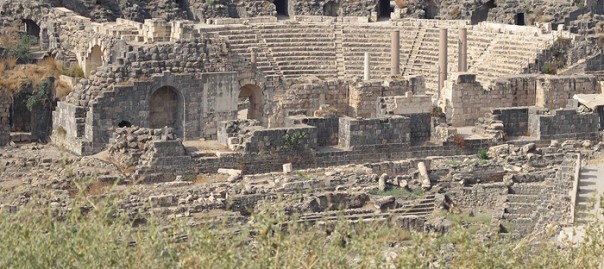 From the desert to Galilee Jan 5
Today was another great day! We started the day at Ein Gedi. This is a spring located in the middle of the desert near the Dead Sea. After a fun hike, we talked about David hiding from Saul, the Ibex deer, and God as living water. We learned to let go of the things that stand in our way from a complete relationship with God.
En Gedi
En Gedi is the largest oasis along the western shore of the Dead Sea. The springs here have allowed nearly continuous inhabitation of the site since the Chalcolithic period. The area was allotted to the tribe of Judah, and was famous in the time of Solomon (Josh 15:62). Today the Israeli kibbutz of En Gedi sits along the southern bank of the Nahal Arugot.
Learn more about En Gedi www.bibleplaces.com/engedi.htm
Next we visited Qumran, home of the Dead Sea scrolls and the Essenes.
Qumran
10 miles south of Jericho, Qumran was on a "dead-end street" and provided a perfect location for the isolationist sect of the Essenes to live. The site was excavated by Catholic priest Roland deVaux from 1953-56. More recent excavations of the site have taken place under the direction of Hanan Eshel.
Learn more about Qumran at www.bibleplaces.com/qumran.htm
After a drive we worked our way north and studied at Beit Shean. We began the discussion of how to take what we have been learning in Israel and apply it to our lives. Tonight we have moved up North. Our hotel is on the North Shore of the Sea of Galilee.
Beth Shean
Located 17 miles (27 km) south of the Sea of Galilee, Beth Shean is situated at the strategic junction of the Harod and Jordan Valleys. The fertility of the land and the abundance of water led the Jewish sages to say, "If the Garden of Eden is in the land of Israel, then its gate is Beth Shean." It is no surprise then that the site has been almost continuously settled from the Chalcolithic period to the present.
Learn more about Beth Shean at www.bibleplaces.com/bethshean.htm
We are doing great, learning a ton, and having a blast.
Chad
Today's Photos