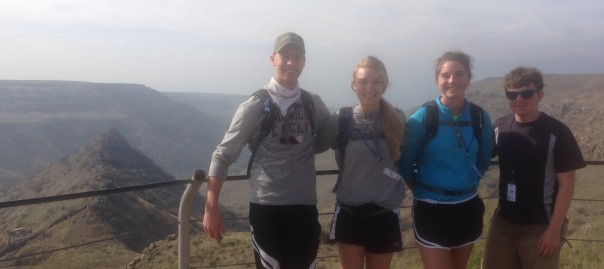 Advantage Jan 7
Jordan River
Today, we went to one of our group's most favorite place so far: the Jordan River. Many of us were either submerged in the water by the help of Chad and… the other Chad, or just took the water and cleansed the head, the heart, the feet, and the hands. It was one of those places that sends goosebumps, because this was the exact same river Jesus was baptized.  Matthew 3:16-17 says "As son as Jesus was baptized, he went up out of the water. At that moment heaven was opened, and he saw the Spirit of God descending like a dove and alighting on him. And a voice from heaven said, 'This is my Son, whom I love, with him I am well pleased.'"
Gamla
Next, we went to Gamla. Gamla was a camel-shaped mountain, henceforth the name Gamla which means camel. This was where the Zealots lived, during the Jewish war with Romans. Josephus, a traitor, told the Romans of a weak spot in their fort and led to destruction. Some believed that this was the cause to lead to the fall of Jerusalem and other places. Then we talked in the synagogue, about Jesus bringing the gospel. Luke 4: 18-21 says, "'The Spirit of the Lord is on me because he has anointed me to proclaim good news to the poor. He has sent me to proclaim freedom for the prisoners and recovery of sight for the blind, to set the oppressed free, to proclaim the year of the Lord's favor.' Then he rolled up the scroll, gave it back to the attendant and sat down. The eyes of everyone in the synagogue were fastened on him. He began by saying to them, 'Today this scripture is fulfilled in your hearing.'" This was God's way of restarting society, to set all the slaves free, and to have all debts forgiven, like in the year of Jubliee. Jesus says that He has come to restore the world to what God intended it to be., but he also says that the kingdom of God isn't just for you, but for strangers and people you hate also. Lastly, our job is to live on earth as in heaven.
Caesarea Philippi
Caesarea Philippi was a place build by Harod Philip (not Herod the Great, who was king at Jesus' birth), after Ceaser and himself. Then people started to worship the god of Pan who was the god of nature and fertility. He was pictured to be half-goat/half-human. People would throw sacrificial animals into the grotto (cave alter). This place was the most evil, and pagan as you could possibly ever imagine., because it was sexually-charged. Jesus then comes to this place with orgies on display, and imagine how disgusted He was. Then He asks in Matthew 16:13-18 who people say the Son of Man is, and the disciples replied that some say John the Baptist or Elijah or Jeremiah, or maybe one of the prophets. Then he asks directly to Peter, who he thinks Jesus was. Then Peter answered right and said, "You re the Messiah, the Son of the living God." Then Jesus replied, "Blessed are you, Simon son of Jonah, for this was not revealed to you by flesh and blood, but by my Father in heaven. And I tell you that you are Peter, and on this rock I will build my church, and the gates of Hades will not overcome it." People considered that the gates of Hades was built on top of the grotto of Pan. Hades was the god of the underworld, and Jesus was saying death couldn't stand against his church, even as evil as this place was. Then Jesus continues to tell what must happen and that he must suffer, but the Peter rebuked it saying that it wouldn't ever happen. Then Jesus said to get behind him, and that meaning Peter was in the way between what must happen, and that he should follow him. Then Jesus said in Matthew 16:24-25, " Whoever wants to be my disciple must deny themselves and take up their cross and follow me. For whoever wants to save their life will lose it, but whoever loses their life for me will find it." Are you willing to lose your life?
-Jayden Van Sant
Amid the rushing waters of the Jordan the 19 of us heard again Jesus's baptism by John. It was a reminder of our own baptism and a call toward the fresh starts of grace in our dwelling.
Next we headed just east to the zealot fortress of Gamla. Within it's fortified walls the words of Luke 4 and the good news of Gods kingdom. The hiking adventure finished at the base of Mt. Hermon (Caesarea Philippi), the place where Jesus gave his disciples a picture of their call and his death. It was a great day and our last in Galilee, now up to Jerusalem!
– chad de jager(not pierce).
Standing on the bank of the flowing Jordan River, I was overwhelmed with emotion. It was a time I will never forget.
–Sarah Stobie
Today's Photos