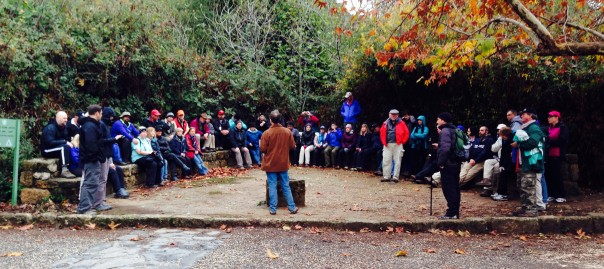 You Are The Christ Dec 14
After breakfast overlooking the Sea of Galilee, where we finally saw some sunshine, we left the kibbutz where we spent the night and immediately started climbing the hills of Galilee, which were much more like mountains than we expected. Our first stop was Tel Hazor which is in the Bible, but isn't near as well known as Jericho. It's the biggest Tel and was one of 3 chariot cities and has great views in three directions. If you've been following the weather, you won't be shocked to hear we encountered more rain.
We drove along the border of Lebanon on our way to Dan, which was the northern border of Israel. We took a beautiful walk along the stream that feeds the Jordon River and came to the alter that Jerehboam built there. Surprise, no rain!
Between that walk and a hike at Barias Falls, we made up for some of the hikes we missed the last few days. The hikes were beautiful and we saw salamanders and hyrax, which are animals that look like badgers.
Next we went to Caesarea Philippi which had a temple to Pan, the pagan "god of all". It's where Jesus asked the disciples "who do they say that I am?" and then "Who do you say that I am?" When Peter replied, "you are the Christ", Jesus responded "your name is Peter and upon this rock I will build my church". Looking up at the tall rock mountain, it was so clear why Jesus chose this location for that talk. Sam told us about the transfiguration which may have happened on Mt. Hermon, right above where we were standing and that God could have spoken in front of all who were present, but instead he took only James, Peter & John and God said "this is my beloved Son". After God spoke, Jesus told them not to tell anyone because He didn't want them or us to come to Him because of His power, but because of his person. That was our "ah ha" moment of the day.
Finally, we went to the Golan Heights and our tour guide, Ronan shared with us both history and problems in Israel today. He is so passionate about his country! It was a beautiful view looking out over the valley and we crossed the Jordan River twice.
As you can tell, we pack a lot into every day and it's almost more than you can absorb, but just indescribable being here. We can't wait to reread the Bible after experiencing it in person.
Mike and Tara Gooding
Today's Photos