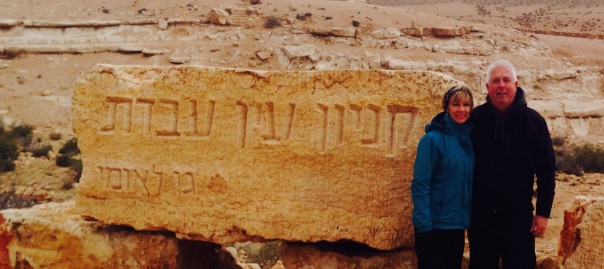 New Meaning Dec 12
It was an active excavation site with plenty of evidence of recent activity – hazard tape, gloves, and a bucket of pottery shards. That's what caught my eye, so I wandered over and picked up an odd shaped piece. It looked like the spout broken off the top of a jug. So what had been its use? Surely not 'just' water; perhaps wine or olive oil? How old was it and how did it break?
Holding the shard at Tel Arad gave the stone walls around me new meaning. A family going about daily activities – preparing a meal, celebrating, or mourning, or… Did they sacrifice at the altar? Did they fight the battles to defend their city?
It's so hard to imagine the life of our Patriarchs, but the sites we saw today – Be'ersheba with Abraham's well, Arad with walls and walls of former Canaanite homes, and Avdat with it's seemingly more 'upscale' rooms, wine press, and churches – gave us a glimpse into Old Testament history.
Yesterday I read in Ruth how Boaz went to the town gate and sat there with the leaders of the town and discussed 'redeeming' Naomi's land. As I walked into Be'ersheba and looked at the picture of the former grandeur of the city gate, I thought of Boaz and the Old Testament story and suddenly I experienced an 'Ah-ha' moment.
I love 'ah-ha' moments – and this trip, with it's varied historical sites and Biblical lessons will put me on 'ah-ha' overload. And I can't wait.
John and Lisa Szablowski
Today's Photos