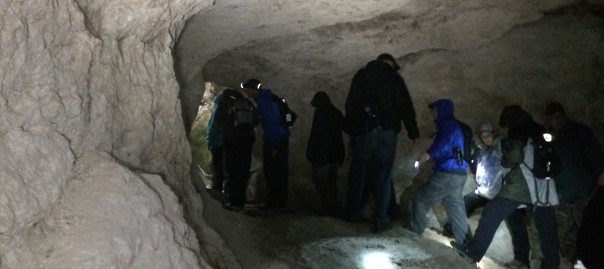 It's Our Family Too Dec 11
Today was our first official full day in Israel. My first hint that God was going to remind us that he is in charge was about 1:30 in the morning. I know the weather report said that it would rain, but come on, what's a little moisture? I woke to the sound of tree limbs scratching our window and the wind howling. When I looked outside, the wind was as strong as Bakersfield on a bad day. At least it was dry… then about 5:30 the rain started to pour!
When we started on the bus, Eric gave us a quick talk to set the mood. Actually, it turns out that what he said will stick with me for the rest of my life. He spoke about the language that our Tour Guide, Ronin, used the day before. When Ronin speaks of history, he uses the pronoun WE. It's His family that he refers to when the Israelites claimed their land. It was His family that battled the Philistines. Eric urged us to remember that we have also inherited God's kingdom. We need to reinforce to ourselves that it's our family too. It just finally sank in as we traveled today. I think I'm already starting to talk that way too!
Today's theme was wet, windy and underground. The names of the places we visited today don't do their impact the justice they deserve: Bet Shemesh, Cave Adullam, Maresha, Tel Azekah, Lachish (the double walled city). However, in normal english, they are better known as the David and Goliath battle site and the caves of Israel. The word caves used to mean to me a place where a bear goes to hibernate – Not where David hid his army. A Cave is a small circular room with a round opening. These were entire multi-room houses underground. Think of the Pueblo Indians and their square rooms all stacked together. That's what we visited today – not bear caves. Some had 20' high ceilings. There were rooms with olive oil presses, cisterns, storage rooms, quarries and living quarters. There were even connected by tunnels that could be crawled through. Now I see how David could have evaded an army and lived for so long. They even seem like a nice place to sit, think and write some Psalms. Oh, and I brought back the very stone that David hit Goliath with. Really!
The rain and wind is hard to explain. Waterproof clothes aren't. Once your underclothes and your feet get wet, you're done. The wind came from several directions and the rain followed us into and out of the caves. Of course, it stopped when we were inside and came back once we were back outside. We got about half of our annual Bakersfield rainfall today. Really!
I saw as many trees as back home in California. I certainly wasn't expecting that either – I was expecting more desert. Ronin explained that it wasn't like this until recently. After the war when Israel was established in the 40's, his grandfather, and lots of other public service workers fresh in their new country, planted trees for years and years. Now the hills are forests and they are still planting. They plant a tee for every citizen every year. Pretty soon I think all of Israel will be forest.
It's 9:00 Wednesday evening as I write this. Normally it's our Impact Group night at our house. I miss them more than I thought I would. We were able to FaceTime with our kids tonight after a hot shower and awesome food. I don't know who was more excited – us or them. They are having fun and it feels good to know they are in good hands back home.
Kevin and Shellie Cobb.
Today's Photos