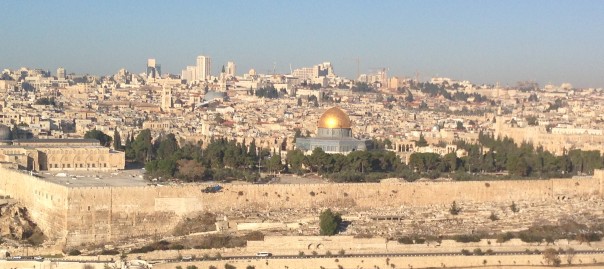 Better Than This Dec 19
Words are truly so hard to find to describe our last day in this land we have grown to love.
Our final day was an incredible end to our Pilgrimage throughout Israel. Starting out on the Mt. of Olives and hearing Jeff teach about Jesus' return to this spot was a special moment! It was chilling to be able to overlook Jerusalem and consider the reality of Christ returning.
We enjoyed a slow steep walk down the Mt. of Olives through a Jewish cemetery continuing on to find a place to rest at Gethsemane. Sam knocked our socks off from teaching in Psalm 118/ Habakkuk and then allowed us each some personal time of reflection in the garden. From there, we finished our climb down and began to ascend into Old Jerusalem. Stopping first at St. Anne's. Jeff led us as a choir as we sang "The Doxology" and "I love you Lord". The acoustics were incredible and I couldn't help but think how awesome the sound of worship is to the ears of Jesus. He truly is worthy of all our praise.
Right outside the church doors were the pools of Bethesda. Sam brought us to the text in John 5 asking the question Jesus asked "Do you want to be healed?"
Our travels for the day continued as we slowly followed Ronen as he walked us through the Via Dolorosa . A quiet reflective walk navigating the streets of Old Jerusalem as we considered the pain endured as Jesus carried His cross up the hills and through the streets.
The Church of the Holy Sepulchre was our next stop in the city. We had a few minutes to enter into the church and see the most likely sites of Golgatha and burial site of Jesus.
For lunch we enjoyed another fun lunch provided by our bus driver Igal. Jerusalem bagels with goat cheese, hummus, olive oil and a hyssop spice for dipping. These are not your average bagels, easily a foot to 18" long and so fresh. For dessert we even added a little Nutella to the bagels. Thank you Igal for your servant heart and patience for all 56 of us every day. You are the best driver in all of Israel.
After lunch we continued walking and had a unique opportunity to walk the Ramparts around Old Jerusalem. We paused at the top to read from Psalm 48 and Psalm 122 and hear from Ronen. As we walked we had unique perspective to be above the city looking down, all while praying for the Peace of Israel.
We boarded the bus and drove 3 minutes over to the garden tomb. We were able to walk around and see what a burial tomb looked like inside, we saw another possible site of Golgatha and then paused as a group to wrap up our trip with a time of communion. Being still to consider the sacrifice of God's own Son, sent to take away the sins of the world. Sent to save a messed up person like me….God's love is so hard to understand sometimes but yet I am so grateful for it.
The Garden tomb was our last official stop of our 10 day tour in Israel. We got back on the bus and headed to the hotel to finish packing and clean up for the long plane ride back to our friends and family. We enjoyed our last supper together as a group and finished with a time of thanks and encouragement. What a sweet time of giving God glory for all He has done.
We boarded the bus for the last time as Igal drove us to the airport. We all seem to be anxious to get home and see our loved ones. But there is a sadness too as we say goodbye to those that have become our family. One of them being our tour guide who has become so much more than our guide….He has become a dear friend and a little piece of our hearts stayed behind in Israel today. Ronen you are a joy! Your passion, heart and knowledge is an inspiration to so many. You have challenged me to be a better archeologist of God's Word – I can't wait to get digging. So many new sites I cant wait to discover and uncover. We love you!
To Sam & Eileen, you are the definition of a humble team. Thank you for all your love, support, care and encouragement to us all. We were truly blessed by you both. May you continue to count it all Joy…giving thanks in all things. We love you.
To the 56 of our family members that we have traveled with along this Pilgrimage….We love you! May our lives continue to be changed by what we have experienced these last 10 days.
To all those who have been praying for us and loving us from afar….we love you and thank God for all your faithful prayers.
One quote Jeff used early in this trip when referring to all the weather hurdles that we encountered was "It can't get any worse than this"….Now that this trip is completed and we have seen so many ways that God has worked in and through us, I would have to change the quote to now say "It can't get any better than this". This was God's trip and we give Him all glory.
Our lives are forever changed!
Tracy and Jeff Gowling
"the LORD Bless you and keep you; The LORD make His face shine up on you and be gracious to you; The LORD turn His face toward you and give you PEACE". Numbers 6:24
Today's Photos