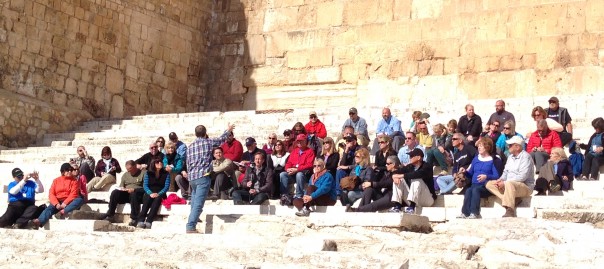 Another Dimension Dec 18
Today was another incredible day in our journey to Israel. We have traveled many places in Israel, starting in the southern part of the country, but have spent the last couple of days in Jerusalem. We have been amazed at so many things we have discovered on this journey. The bible is confirmed for us at every site. We have had great teaching all along the way and the Word of God has truly come alive. We have been on this journey now for almost 10 days and we are more assured of the truth in the bible and it's application in our lives and it only makes us hungry to learn more.
Today we started by entering the old city of Jerusalem and went to the Temple Mount, where the last Temple was before it was destroyed by the Romans. It is as hard to explain the magnificence of this site, as it is to explain the impact of this trip on all of our lives. Seeing the size and grandeur of this wall, that retains the square that the Temple Mount is on, is like trying to describe this trip. The walls are made of stone blocks that weigh anywhere from two tons to six hundred tons and it is about fifty feet tall. You cannot appreciate it, unless you see it. Jesus approached this wall and it must of been truly incredible. When he said this would be destroyed and rebuilt in three days, it must have perplexed his disciples. It took ten thousand men at least ten years to build it.
Next we went to the place in front of the Temple Mount, where Peter preached and the Holy Spirit descended on the disciples and many languages were spoken, but all understood. Three thousand people were baptized that day in pools used for ceremonial cleansing to enter the Temple. Next we went to the city of David and went through Hezekiah's tunnel where we walked through a tunnel that insured fresh water for those living in the walled city.
We sat and listened to our teacher, Sam Meier, an amazing teacher who taught us so much. He explained that we were at the Pool of Siloam, where Isaiah prophesied about Emanuel the messiah, so appropriate for the Christmas season. This was also the pool where Jesus sent the blind man after putting sand on his eyes, to heal his sight. Our last stop was the Israeli museum, which is a site well worth your time if you ever visit Israel.
This trip has been an incredible trip for all of us who came. It has truly given us another dimension to our study of his word, but more importantly, God has spoken to each of us in such a way that we will be forever changed.
Toni Gibbons and Greg Gibbons
Today's Photos