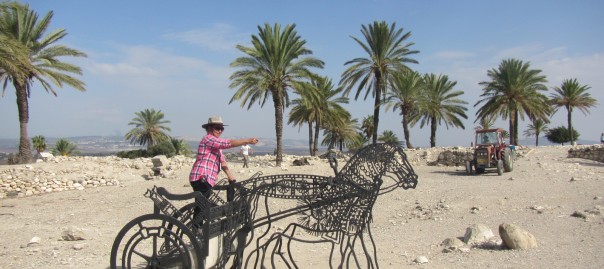 Day 6 – Nazareth, Megiddo, and Mount Carmel Nov 8
Shalom from Jerusalem!
After having a wonderful breakfast overlooking the Sea of Galilee we embarked on a journey to Nazareth. How awesome it was to be in the city where Jesus grew up! This was a small village when Jesus lived here only around 200 people. It is home to the Basilica of the Annunciation and many other small churches.
After a short jaunt to the Mount of Precipice we had a breath taking view of Nazareth and the surrounding countryside. After a great devotion on Luke 4:16-30 which is where Jesus is rejected at Nazareth we had some tough questions to answer. " Have I received Jesus? And do I follow Him daily?"
Back on the bus and over to Megiddo and the Valley of Jezreel.  What a beautiful place however a very sobering reminder of what is still to come. After reading Revelations we are reminded to be confident as we know the outcome of the final battle.
As we walked around the ruins of this city we were able to pick up shards of pottery from the Early Bronze Age. We were fascinated by their ingenious water system and were able to walk through the tunnels under the city walls.
Next up, our hike to reach the top of Mount Carmel. It began a little delayed as we had trouble finding the "easier" entrance path. However as we got off the bus and looked up towards our destination there was fear in our hearts. But as always, God overcame!!!! With lots of prayers and encouragement from the group (and some candy bars) we all made it to the top. We also were treated with a short rest in a field of ancient olive trees. How beautiful!!!!
It was an added bonus to have some of the group that didn't hike waiting at the top cheering us upward! After a devotion on Elijah from 1 Kings 18 we all were confident the Lord can do ANYTHING!
Back on to the bus and the journey to Jerusalem began. After arriving at the hotel and having dinner some of us ventured out into this beautiful city. We can not wait to explore it more tomorrow!
Today's Photos