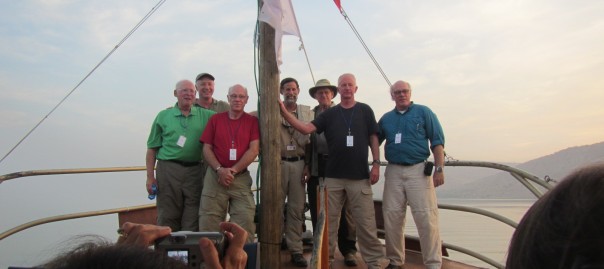 Day 4 – Fear, Following, and Floating Nov 6
How can day four possibly be as amazing as day three? Yet it was!
Started out the day with another fabulous breakfast. They do eat some strange but delicious things for breakfast. Did we think we would lose weight here? Well that is not happening! You have to love a place that has fresh baked bread and dessert for breakfast.
Loaded up the bus at 7:15 and left for the trailhead of Mount Arbel. Our Guide said this would be the hardest, most challenging hike yet so about 9 of us choose to not hike it. We dropped our loved ones off (lots of hugs and prayers), and as they started off we got back on the bus. First stop the Chinese laundry so our driver (who hasn't been home in 2 weeks), dropped off his laundry. That was great because it gave us time to see the signs and the business section of Tiberias. Then we drove to the summit of Mount Arbel and waited. Our group made it up the hill in about 1 hour. Bus people joined hiking people at the summit and we prayed and looked at the fabulous, almost surreal view of the Sea of Galilee.
We returned to the bus and he took us close to where Jesus delivered the Beatitudes and the Sermon on the Mount. We were on a hill close to the sea, where we read Matthew 7. We sat under an olive tree, in a field, with the Sea of Galilee in the background. It might not be the exact location of the sermon but we sure were blessed and amazed.
We then walked down to the Sea of Galilee from the place we were sitting to where the warm springs feed the Sea. We sat on the rocks and prayed for each other just as Jesus and His disciples did.
Back on the bus where we stopped at a roadside restaurant and had a great Israeli lunch. Falafel sandwiches (ask someone on the trip if you don't know what this is) which were really quite good. We drank soda which comes in many flavors. Today we did have coke, but we also had grapefruit, mango, orange and lemon lime soda. It was cold! No ice cubes but refrigerated.
On the bus again and off to Capernaum. AMAZING. The place that Jesus actually lived, worked, and prayed. It is also the village where Peter and his family lived. Seeing the actual ruins of homes where Jesus lived. All of our hearts were amazed and so grateful! We walked were Jesus walked.
It was hard to leave Capernaum but back on the bus we went for a boat ride on the Sea of Galilee. We boarded the style of boat that Jesus and His Disciples used for travel and work. What a fun, fun, time. Our Captain played and we sang the Star Spangled Banner, raised the American flag, and thinking about sailing on the Sea of Galilee… there wasn't a dry eye in the house. It touched every heart there. The fabulous time was continued by dancing the Jewish Hora. Some of us have 2 left feet but fun was had by all. Today we had much to be joyful about. Actually every day we have much to be joyful for. Maybe we should show our joy more often to the world.
Best Part of the Day Quotes:
Time on top of Mt Arbel. Praying for my family. There was a magnificent view of the Sea of Galilee. God touched many hearts, while we spent time listening to Him. —Kris Hurst
Dancing on a boat in the Sea of Galilee. —Kelli Schick
Sitting on the shore of the Sea of Galilee, listening to the story about Jesus calling His Disciples to leave everything and follow Him.It was a good reminder to me of how we are called to live as disciples of Jesus. —Michelle Lee
Today was my favorite and I am so grateful that I could make the climb up Mt. Arbel.Every teaching and sharing time is so sweet. Sea of Galilee so touching and Beautiful! —Mary Jane Crosby
Battery Exhausted. Good Night from the Sea of Galilee.
Today's Photos