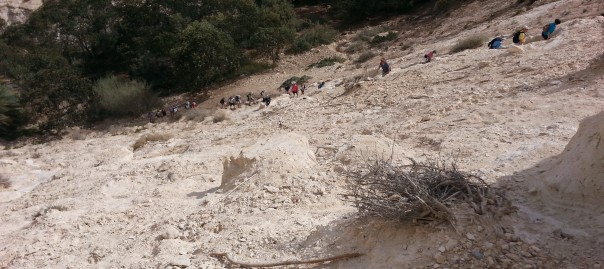 Day 2 – Stamina, Walking Sticks, and Encouragement Nov 4
After a good night sleep (great beds, although we probably could have slept on nails!), we ate a wonderful breakfast and boarded our red and white bus.
We were the first to arrive to the Wadi of Zin so our guide told us to watch for Ibex out for their morning stroll! We were in for a stroll also, through the valley and straight up the canyon walls! It took stamina, walking sticks, encouraging each other, and faith, lots of faith to get up those walls. After that hike there was much joy in our group. The kind of joy that truly comes from God.
Arad was where we saw the Temple of the Israelites. It is a miniature of the temple that stood in Jerusalem. Fabulous! It was so interesting and truly revealing how our God pointed us to Jesus and our salvation. It was interesting watching them continue to dig for artifacts.
We ate lunch purchased from the grocery store under a canopy at the entrance to Masada and it was wonderful. Then the group that still had energy, took the hike up to Masada. It was changed this year and the group hiked up the Roman Ramp. Some of us rode over to the other side and rode the cable car up and then the whole group rode the cable car down.
Then we only had about 60 minutes to check into our hotel, change into bathing suites and get out to the Dead Sea. It was pretty dark when we finally got out but you still float even in the dark…your pictures just don't show up.
More tomorrow…
Today's comments:
Wadi of Zin
The climb into the area was quite a challenge. At one point my knees gave out and I fell. I prayed for strength and stamina to make it to the top. I was blessed that my prayer was answered and I made it.I can do all things through God who strengthens me. Praise the Lord.
—Pat Cantley
I love the hike here. Touring walls at the bottom of the valley, lovely trickling stream that leads to a deep pool and a beautiful waterfall. We climbed up the the wall ending in 2 vertical ladders at the top. Beautiful view!
—Kayla Evans
The morning climb was most memorable, the scenery was beautiful, the climb was very challenging, I loved the goats.
—Debe Evans
Watching archeologists excavating the temple at Arad, Hiking out of the canyon at wadi zin
—Michelle Lee
Today's Photos