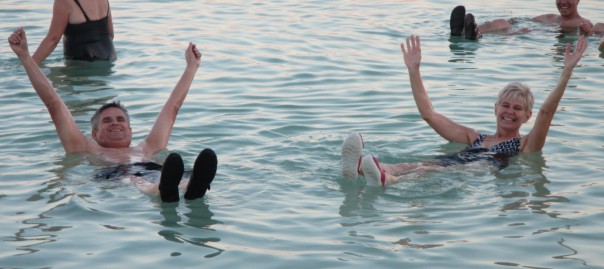 Day 3 – See, Feel, and Hear Oct 26
It was a hard day, a desert day. And it was a day when the Word again came alive.
We are in the Judean wilderness, desert country literally. It's unrelentingly sunny and shade is rare. The sea here is dead, full of so much salt there's no life in it. The hotels here on the Dead Sea look glitzy but nothing really grows in this land unless man or machine brings in water. Even the fruit of the tree outside our hotel is empty and poisonous.
But we climbed to the waterfalls at Ein Gedi and we found living water. We went up to Masada and found a fortress. We explored Qumran and found caves where the scrolls were painstakingly- preserved.
Every time one of us reads the Text from the Bible, we repeat "These are the very words of God". We hear these words in different voices…..in David's booming preacher voice, in Felix's passionate Asian accent, in Karlie's clear and open 10 year old tones. And it's starting to sink into my heart in an entirely new way. Marty says this Text is "not a fairy tale". These stories actually happened. Here. Someone said "the land is the fifth gospel". We can see the ibeks (deer) come down to the fresh stream in the desert. We can feel the cool shade of the rock and hear the waterfalls before we can see them.
And then we are challenged. This is the really hard part. This is the best part……… Do we want to be people of the Word? Do we want to carry living words that bring life? Do we even know enough of God's word to be his voice box? Do we look like this waterfall in a parched and weary land? Who are we living water to? Do we live like God is our fortress? Do we cherish the "very words of God", and hide them in our hearts? Do we devour the word like a starving lion or is it a nice snack?
I am awed by the chance to be here, to experience this. And I want it to change me.
So when you ask me about floating in the Dead Sea (it's uplifting) or eating hummus and olives (yum) or hiking at my age with bionic hips (I'm pretty much keeping up and loving it), please ask me how this is changing me so I'll remember.
Ann Dieleman, Trip Participant
Today's Photos