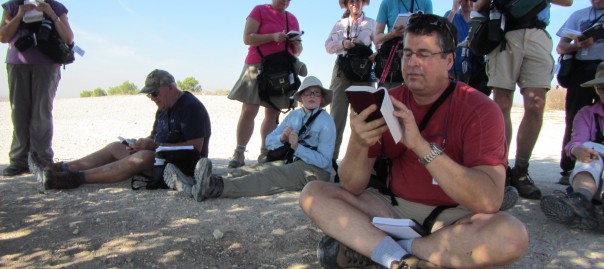 Day 2 – The Very Word of God Oct 24
"The very word of God!" has been repeated countless times in our first two days as we've read scripture that is before our eyes at each stop. We are exploring the land God gave Israel, where they were to be an influence, the Shephalah. The rolling hills and fertile valleys are between the pagans who lived along the coast and the Judean Mountains where the Israelites often tried to hide.  God wanted them to live where the Via Maris (a major trade route) crossed.  We were challenged with the question of the rabbis: How is your Shephalah? – Are we living where God has planted us to be a positive influence? We looked down on the areas where Samson lived, climbed into caves in the area where David hid, overlooked the valley where David killed Goliath, collected our "slingshot" stones in the nearby wadi (dry stream bed) and descended into an underground room where olives were pressed – perhaps like the place Jesus and his disciples stayed in the Garden of Gethsemane.  We learned at the base of fortified cities like Lachish which were built on high sites that had water and sustenance. In spite of this security, trust in the Lord was the crucial difference in survival as rulers like King Hezekiah found out when facing Sennacherib.
Lessons from nature abounded, too.  John 15 came alive in a vineyard that had just been pruned. Sweet leftover grapes reminded us to consider our own fruit as we abide in the vine.  Pomegranates reminded us that the 613 seeds in each fruit represent God's commands (613 "words" in the Hebrew) considered a gift from God – a sweet treat and symbol of fertility and royalty. It explains their use as decorations on the temple columns and priests' robes. The abundant farming fields, orchards and vineyards brought to mind stories of being generous to the poor, leaving olives, grapes, and the corners of fields. God never gave exact amounts, but left it up to our hearts how much to share – Boaz being a good example.
We shared some sites with khaki-clad co-educational  army troops (all carrying semi-automatic weapons and fresh out of high school) and orange t-shirted school children who were all learning the history of their land. My favorite was a group of Orthodox third grade boys who came crawling out of a four foot tall cave near Abdullah. They had fringe on their shorts, side curls, yam ekes on their heads and were delightedly following their dusty, bearded teachers.
Final personal travel observations: 1) flights went smoothly and many people applauded when the pilot smoothly landed our huge plane in Israel! 2) The throngs waiting to have passports checked after de-planing were witness to the healthy tourism in there. 3) The paths are very rocky and sometimes tricky to navigate. 4) The weather has been gorgeous! 5) The hotel food is amazing with lots of fresh ingredients and a great variety. 6) So far no one has been lost due to our "families" and our bus driver safely navigated the curvy, narrow two lane highway down to the Dead Sea. 7) Tonight and Friday we are in the lap of luxury at Isrotel Ganim Resort on the Dead Sea.
Can't believe we're here where Jesus got dusty feet like us!
—Sharon Sevonty, Trip Participant
Today's Photos