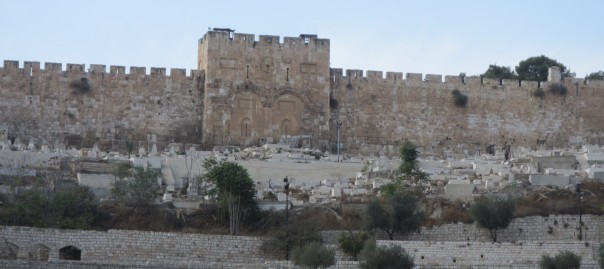 Day 10 – A Lasting Remnant Oct 31
This was a day of last things in many ways. It was the last full day of a most remarkable tour of the Holy Land, and tomorrow night will be our final dinner together before some board the plane for the long flight home. While a few of us are going on to Jordan for a few days, in many ways we will be saying goodbye to this GTI "family" and this spiritually evocative city all too soon.
But today was also a time for learning about Jesus' last days here as well. It began with a visit to the Dome of the Rock on the Temple Mount this morning. As we discovered, entrance was not in any way a guarantee since the guards are known to be capricious in deciding who may enter and who is forced to turn away. If someone loiters too long in one spot inside the grounds proper, he or she may be unceremoniously shooed out with an impatient wave of the hand. God blessed us, though, for after a two-hour wait in a very long queue, we made it in. Neither words nor pictures could possibly describe the beauty of the golden dome gleaming brightly in the sun or its exquisitely colored mosaic tiles covering the exterior. Even though Gentiles are not allowed inside, it did not in any way diminish the thrill of walking the grounds where some believe the first man and woman were brought to life by the very breath of God. Amazingly, this small piece of holy real estate is also thought to have been where Abraham obediently led his son, Isaac, to the altar as a sacrifice and where Jesus was tempted by the devil the second time. For the Muslims, Mohammad ascended into heaven here as well. In truth, it is almost impossible to grasp the fact that we were actually walking on what so many religions regard as high holy ground. Tensions remain high as leading factions claim supremacy and watch each other with guns at the ready should tensions rise to the boiling point. That so many should fight to retain control in accordance to their own religious tradition is testimony to the fact that this is truly one of the most remarkable spots on earth. The fact that we have been privileged to be here for ten days and experience it for ourselves is something that will forever change our thinking and our devotion to the holy text—the very word of God itself.
Today we were rewarded with an opportunity to see and touch the Western Wall, a lasting remnant of King Herod's magnificent structure where God's presence is thought to continuously reside. Prior to statehood in 1948, the Wall was known as the Wailing Wall so named by the Jews who cried out to God in anguish pleading for him to redeem the land he had given to the Israelites millennia ago. This day held a special treat to us for on Tuesdays and Thursdays, Rabbi's and families with young boys carry out the ancient rite of passage, the Bar Mitzvah. As we watched men and boys on one side of the fence and women and children on the other looking over to be as close as possible, I felt chills run down my back. Even as simultaneous ceremonies were being carried out, people lined the wall praying to Yahweh for whatever needs weighed heavily on their hearts. I can only speak for myself, but my most pressing wish was realized when I actually had a chance to insert a written prayer request between the cracks of the large stones—a heartfelt plea for God to stretch out his healing hand to several loved ones in need of the Master's touch. What a joyful privilege it was, one that caused tears to stream down my face. Whether God actually inhabits the stones is questionable, but I do know that he inhabits the prayers of his saints. I was strangely moved and left with a much lighter heart than before. God answers prayers in so many ways, his wonders to perform. May we never cease to praise his holy Name!
Admittedly, it was a long day— a full day filled with many sights, sounds and wondrous smells tempting us as at every turn as we walked through the narrow streets lined with merchants on either side. Anything and everything you could ever want was beautifully displayed on either side of the passage—beads, exotic spices, colorful clothing and an endless array of souvenirs. However intriguing all this was to me, I could not help but feel the heavy weight of grief knowing that my dear Savior traveled these very streets, the Via Delarosa, on his way to the cross. At one point we watched as a number of costumed Christians passionately commemorated the Twelve Stations of the Cross. From there we passed on to the Church of the Holy Sepulchre where tradition holds Christ was crucified and perhaps even buried, or as others insist, a bit further away. There is no certainty of the exact spot of so many terrible yet wonderful happenings in our Lord's journey, but there is every reason to believe, as our well-versed guide, Marty, explained, we were not far off the mark.
There were so many wonderfully thought-provoking lessons this week and today was no exception. As I frantically tried to record every thought, if not every word, I couldn't help but be astounded by the deep insight Marty and Terry provided along the way. I have no doubt that as Dan and I try to match descriptions with photos when we return home, we will fall far short of catching the passion and sadly, the accuracy of all we heard, saw and touched. Suffice it to say that this has been a transformational event in our lives, one we will never forget. May the Holy Spirit continue to bring it to life in each person in our GTI family as we continue to ponder God's story and our place in it. As each of us answers the question posed by Jesus, "Who do you say I am?" I pray we will respond by going into all the world making disciples, baptizing them in the name of the Father and of the Son and of the Holy Spirit—teaching them to obey everything that he has commanded us. Surely, he WILL be with us until the end of the age (Matt. 28:18-20).
—Francine Thomas, Trip Participant
Today's Photos