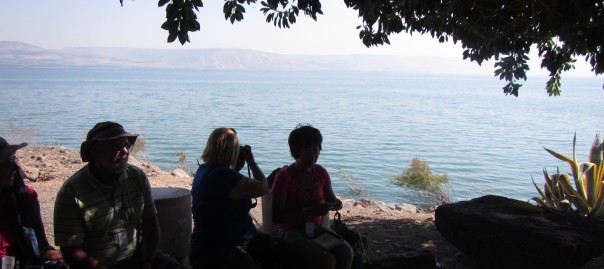 Day 7 – You Did It For Me Oct 18
We started the day with praise and worship on an  amazing boat ride on the sea of Galilee. I still couldn't believe that we took the boat ride on the sea of Galilee! It's where Jesus performed the miracle of the fish (Luke 5), where He clamed the storm (Matthew 8:23-27), and where He walked on water (Matt 8:28-34). Sailing over the sea of Galilee and watching the sunrise over the horizon was just spectacular. I couldn't stop thinking of the greatness of God, the Creator of all things. It was something I will remember for the rest of my life.
Then we were at Mount Arbel learning about discipleship and the importance of having a community, followed by a hike down the mountain. The hike was hard. It was long and steep and a fatal fall could happen if we didn't follow our leader's instruction, if we didn't help each other, and if we didn't focus. Some of us were afraid of heights, others were less experienced in hiking such steep slopes. But with the help and encouragement of our friends, by working together as a community, and following close to our leader and his instructions, we all made it safely. And even though it was long and steep, it didn't seem that long and steep because we were together. That was when it hit me. If I was just by myself, I don't think I could have done it. I was reminded that it is very important to follow close to our leader and his instructions and having a community of friends to encourage us, comfort us, push us forward, and help us when we need it. Being a disciple of Jesus and following Him involves obeying His commands and it takes efforts and hard work. It's about taking up our cross and oftentimes there is no place to lay down our head. It's like hiking a mountain. We have to start at the valley and hike up. It can be long, steep, hot, and seem impossible. But when we follow close to Him, obey His commands, and with the help and support of our community, we will get there. Together. It is not about the destination, it's all about the journey. It is when we face challenges, trials, and sufferings that we pray more, that we grow closer to God, and learn to give thanks to God for His faithfulness through it all. It is those times when we can say that we are weak but He is strong. We give thanks that God brought us out of the desert, but we pray that He doesn't take the "desert" out of us. The desert is when we experience God's faithfulness, grace, and mercy. It teaches us to depend, follow, surrender, and trust in God. It is where we learn to give thanks to God because He is good, and not only that, but because it is good to give thanks. He is worthy of our praise and His love endures forever.
We then went to Capernaum, a fishing village, where Jesus performed many miracles (healing the sick) and where He chose his disciples to be fishers of men (Mark 1:16-17). If we are leaders and are looking for people to be our disciples, our tendency would be to look for those who are educated, smart, perhaps rich and well-connected to the community. But we read in the bible that Jesus chose disciples who were fishermen, tax collectors, etc. It tells us that Jesus doesn't require us to be perfect to follow Him, but to have a relationship with Him and be obedient in following Him, allowing Him to continually shape and refine us to the people He wants us to be. He wants a relationship with us. The Bible talks about our relationship with God like the bride and groom relationship. It's covenantal love that requires commitment on both part to love and be faithful. The Bible says "Love the Lord your God with all your heart, with all your mind, with all your might. And love our neighbors as ourselves." How can we say we love our spouse if our actions don't reflect it? How can we say we love God if we are not obedient? How would the world know that we love God if we don't love our neighbors? Action speaks louder than words and true faith manifests in action.
"Then the King will say to those on his right, 'Come, you who are blessed by my Father; take your inheritance, the Kingdom prepared for you since the creation of the world. For I was hungry and you gave me something to eat, I was thirsty and you gave me something to drink, I was a stranger and you invited me in, I need clothes and you clothed me, I was sick and you looked after me, I was in prison and you came to visit me… Truly I tell you, whatever you did for one of the least of these brothers and sisters of mine, you did it for me." – Matthew 25:34-36, 40
Let's love and live well so that the whole world may know about our loving Father. Blessed is the one who delights in the law of the Lord, that person is like a tree planted by streams of water, whose leaf does not wither but yields its fruit in season and whatever they do prospers (Psalm 1:2-3).
Today's Photos