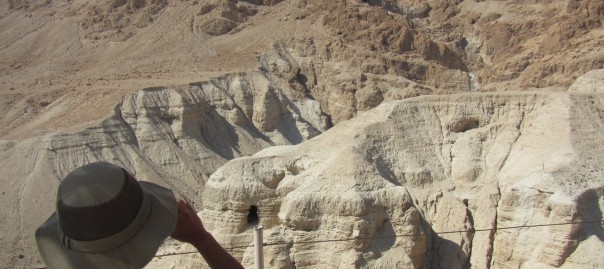 Day 6 – Life in the Desert Oct 16
When I think of deserts I think of bare, desolate, lifeless and desperate lands. But our hike at En Gedi today proved that there can be life in the desert. We saw wild goats, green trees, plants, streams of water and waterfalls. Shepherds know the desert well. They know where to bring their sheep to find green pasture and water. When the sheep follow their shepherd, they will find pasture and water. David was a shepherd. He knew very well how the desert was like and how hard life could be in the desert, but he didn't ask God to change his path, instead he asked God to give him strong feet to walk his path (Psalm 18:33). Then he wrote Psalm 23, about how God lead him to green pasture and quiet water and how it refreshed and restored his soul. There is a lot we can learn from King David. Our lives can be hard, but God will supply all that we need, when we need it, and when we choose to follow him close, He will lead us to green pastures and He will give us living water so that we will never thirst again, even when we're in the desert seasons of our lives.
Then we visited Qumran, where the dead sea scrolls were found. We learned how the Essenes were very careful and paid detail attention to make sure that the scriptures were accurately copied and passed down from generations to generations. The dead sea scrolls validate the authenticity of the Bible and it is because of their faithfulness to the text, we can have confidence in our Bible. These people are an inspiration to us that we too should be committed to study the text, care for the Bible, and dedicate our lives to live according to God's Word.
The trip is only getting better each day! We are staying in Galilee for the next few days and some of us got to swim in the sea of Galilee this afternoon before our dinner by the shore. Looking forward to learning more tomorrow.
Today's Photos