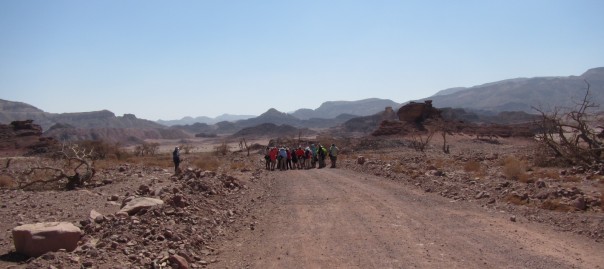 Day 4 – Desert Oct 14
We started the day with our devotion overlooking Maktesh Ramon, a spectacular range of eroded mountains that can only be found here in Israel. This was what we learned this morning: Love our neighbors as ourselves. How can we love our neighbors if we don't know them? Many of us didn't know each other when we started this trip. As the days went by, we started to get to know each other through conversations, activities, and experiences. We're building an amazing community of friends in this trip. This morning some of us got a chance to introduce ourselves, shared our life stories, and why we joined this Israel trip. Some shared precious stories about how God used brokenness to shape and refine our lives, to be holy and set apart from the world. Who are we? Why are we here? How are we different? Shia Timmons, one of our brothers in Christ on this trip, shared his story of how he searched for his identity, for a community to fit in and be a part of, all life long, and God revealed to him that he already has the very thing that he has been searching for all his life – an identity found in Christ.
"I surrendered to the Lord four years ago and started to walk and live in the fear and admonition of him. Before that, I grew up in a family that did not know the Lord, nor acknowledged His presence or existence. That translated into chaos, pain and sadness in the home. I know not know love, family and did not know me. I was empty, a wasteland, in need of life giving water and love… Growing up as a white American, there are a lot of stereotypes and very negative perceptions, particularly the lack of culture or heritage, that "we" don't belong to something greater and more important than ourselves. One thing a child should always have is unconditional love. Love from parents in a family that wants to have you around, that value your heart, and care for your existence. Unfortunately, my stepmother did everything just short of death to end me. Flying head-first into a wall at 14, she could have killed me. A welt, a bruise the size of a hard boiled egg was a painful reminder of my past. My head was pounding and I was crying, holding a bag of frozen vegetables laying on my bed. I asked myself over and over again, "What did I do to deserve this? I didn't do anything wrong?!" Beyond the pain, in fear of getting beaten, I closed my mouth and cried out inside me, "Isn't there anyone that can help me?" A few months later, I met my mother at the age of 15, moved to Sunnyvale, CA, and the abuse, the torment at home finally ended. I wasn't baptized until 20 years old, so from 15 onwards, I didn't have love and support from a fully functional family. My mother did what she could, but my entire childhood was stolen. God filled in the blanks even though I did not know him. He brought me into His family. Because I had no idea who I was or who I was supposed to be, I sought solace and comfort with others who had rich heritage, who had a family. At the age of 19 almost 20, I met my 1st god family, the Dizons. Papa Romy Dizon started off as my boss, who by working closely with me, became close to me and took me under his wing and under his family's love. After a few years of family functions, outings and adventures, Mother Zeny Dizon and Papa Romy, told me not to call them by their first names anymore. They said it was not right, because we're not just your friends, call us "Mom and Dad". That was the answer to a call from my heart, that I already love them that way. God brought me family, adopted, Filipino and beautiful. Mother Zeny passed away several months ago and now is a witness of min in heaven Romans 12:1. It wasn't until I surrendered to God at 32 that family took on a whole new meaning. I found fullness in the Lord and love and support through Fellowship and Mentorship in the body of Christ. I have never had more friends, more love, and more family than I do now. Now at 36, the blinders are off and I'm learning what was hidden from me. I am a Jewish Christian and am embarking on a personal journey in Israel to know my heritage and inheritance, all with family, all with God. I didn't plan this trip. I have been saving for a few years since Good blessed me to pay off debt and finally tithe. I was saving up for a wedding ring and once the relationship ended, the saving did not. God ensured that I didn't spend it. A few months ago I found out about this trip and really wanted to go. Not having the appropriate information, numbers or emails, all I had was two names, Pastor Danielle and Pastor Kevin. I pretty much started thinking about other ways to get there. Eventually, one evening I was sitting at ALCF in the parking lot before single's bible study and saw an Asian man pull up and start to unload his car. God said through the Holy Spirit: "You're going to want to help him, hurry!" I walked behind hi up to the entrance into ALCF and pulled the door open for him. He said thank you and I said God told me to help you. I introduced myself and said: "My name is Shia." He said in a surprised voice: "Shia?" I said: "Yep, I'm a Christian Jew, my name means…" "I know what your name means" he said, "it means Gift in Hebrew. Who named you?" I said: "God." He finally told me his name was Kevin. I said in amazement and awe: "Pastor Kevin?" By God's divine appointment I got all the information I needed to make this journey. After all the saving and trusting in God, I had $4,452 in my savings, the exact cost for this trip minus $2. Hence, I am here, learning more about my Savior, my Creator, and my heritage – my inheritance in Jesus Christ. Yeshua Hamashiach."
Following the footsteps of the Israelites and Moses
The southern part of Israel is mostly desert and living here is very difficult. I saw no pastures, no food, and no water. There were only rocks and dirt as far as my eyes could see. But this was exactly where the Israelites and Moses spent a lot of their time after they came out of Egypt. Today we spent a lot of time following their footsteps and understanding how it was like to wander in the wilderness. What is it like living in the wilderness? I understand now why the Israelites cried out and questioned why God didn't just let them stay in Egypt. Life in the desert is hard. It is hot (imagine 100F all year round), bare, rocky, without shelter, food or water. How was it possible that their clothes did not wear out and their feet did not swell in the forty years they were there (Deuteronomy 8:4)? My feet are already sore walking in the desert for just a few hours and I cannot imagine my hiking shoes will last more than a year if I were to walk in this rocky desert everyday. But it is the point of this experience: God wanted His people to completely surrender their lives and be dependent on Him. He wanted them to rely, trust, and believe that He will provide for them, to teach that man does not live on bread alone but on every word that comes from the mouth of the Lord.
"Look at the birds of the air; they do not sow or reap or store away in barns, and yet your heavenly Father feeds them. Are you not much more valuable than they?" – Matthew 6:26
Faith untested is no faith at all. Everything happens for a reason. God brought the Israelites to the desert:
To experience God: Although the Israelites are God's chosen people, it doesn't mean their lives are without hardship and pain. The Israelites didn't always have it all together. If they always had it all together, how could God's name be glorified? How could they experience God's goodness in their lives? Just as it is with us, it is easy to forget about God when life is easy, but when life is hard, it is when we cry out to God and pray the hardest. It is when we are closest with God and experience God's faithfulness, blessings, interventions, protection, forgiveness, healing, and restoration in the most intimate way.
To give them good gifts: Many good things came out of the desert. Think of Moses, the Ten Commandments, King David, John the Baptist, and Jesus. God has good gifts in store for His people. When the Israelites were in the desert, they were able to hear Him in ways they couldn't while they were in Egypt. The desert was where God spoke. It was where God shaped and molded them to be different than they were before. It was the place where His people received God's grace, mercy, forgiveness, and protection. As it is with us, we are a work in progress. But God continues to transform and renew our mind so that we can receive God's gifts of love.
To spread the good news to the world: Desert is a land without boundary. It just goes on and on. When God spoke in the desert, everyone could hear. When God guided them as pillars of cloud by day and fire by night, everyone could see Him. The first thing God said to them when He brought His people out of Egypt was "I am the Lord your God who brought you out of Egypt." God wants us to know that He is God and He is good and that the world may know that He is God.
I learned a very important lesson today. In my life I try to search for "green pasture" in the desert. But today I realize that the desert is the green pasture. The whole desert experience is God's gift. It is where we experience God's presence, faithfulness, providence, undying love, and an intimate relationship with Him in ways we can never experience anywhere else.
Tabernacle versus Golden-Calf Living
Later in the afternoon we got a chance to visit a tabernacle, a place where the Israelites would go and worship God. We read in the Bible how intentional, detailed, and specific God's instructions were for building the tabernacle. Compare this to how the Israelites hastily built a golden calf from the gold they had. It's a lesson learned. We have to live intentionally and purposefully because we are responsible and accountable for all that we do.
The fun part of the day? We were treated to an amazing experience and swam in the Red Sea. The water there is amazingly blue and clear (or as my hubby said it: "it is ridiculously awesome!"). You can see the pretty corals and fishes from the top and experiencing this with our brothers and sisters in Christ is something that I will never forget.
Today's Photos