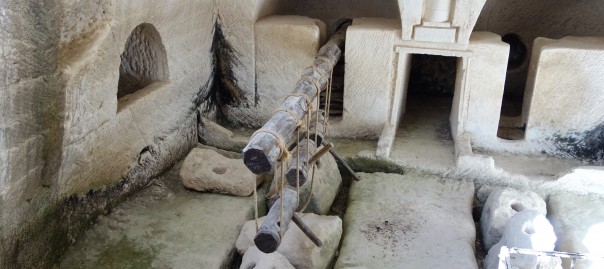 Day 2 – Shephelah Oct 13
OVERVIEW
It is the first day of our Israel trip that my husband and I are currently on for the next two weeks. We've been preparing for this trip for the past six months, including weaning my baby off breastfeeding and making sure she's well taken care of while we are away. It's our first time leaving her behind and it is not easy. We miss her and we try to do Google Hangout whenever we have wi-fi (so thankful for technology!) I know in my heart this trip will be worth it. It is not a regular vacation and it will not be like any other trip. We're learning about God's Word, walking as Jesus walked, experiencing the Bible live, and deepening our understanding of the Bible. Our day includes hiking to different archaeological sites, learning about what we see (ancient city gates, cisterns, olive oil press, columbarium, etc.), going to places where stories of the Bible happened and reading the passages right there and then. It's the most amazing thing to be able to see what I otherwise would have no idea of, when I read the Bible. God speaks through His creation, and standing in the land where God's people came to worship and where Jesus ministered brings a new level of understanding and appreciation of the Bible. Israel is the promised land and this land is a sign of God's faithfulness, blessings, forgiveness, restoration, and protection.
"For the Lord your God is bringing you into a good land – a land with brooks, steams, and deep springs gushing out into the valleys and hills; a land with wheat and barley, vines and fig trees, pomegranates, olive oil and honey; a land where bread will not be scarce and you will lack nothing; a land where the rocks are iron and you can dig copper out of the hills." – Deuteronomy 8:7-9
We started the day with a morning devotion on top of a hill overlooking the city. Pastor Danielle talked about the importance of prayer. Prayer is not a monologue, but it is a dialogue between God and you, you and God, and with each other. Prayer is Shema, which in Hebrew means "hear, listen, and obey."
"Shema Israel, Adonai elohenu-Adonai echad, Ve'ahavta et Adonai eloeikah, b'khol levavkah, uve'khol naphshekah, uve'khol m'odekah. Ve'ahavta le'reacha Kamocha, Amen."

(translation)Â "Hear, O Israel: The Lord our God, the Lord is one. Love the Lord your God with all your heart and with all your soul and with all your strength. Love your neighbor as yourself. Amen."
When we say this prayer "the Lord our God, the Lord is one," we are declaring that He is God. And when we pray to love God with all we are and our neighbors as ourselves, we are praying for each other as we try to obey God's Word.
Having our morning devotion overlooking the promised land while the sun was rising was breathtaking and beyond words. You can't not be in awe of God's creation, promises, faithfulness, and blessings.
STANDING PILLARS IN GEZER
Gezer – which means to cut or divide – is a trade route wanted by so many rulers including the Assyrians, Persians, Babylonians, Egyptians, etc. Why did God place His people in Israel? Why these standing pillars are here? Exodus 24:5-6 references how Moses built an altar and set up stone pillars where the Israelites worshipped God. Although we don't know why these particular pillars are here, we do know that Israel is a crossroads, it is a place "in-between." God places His people here so that God's Word may be spread everywhere and that people can stop and think about what these pillars point to, what God did to His people when He brought them to the promised land, His blessings and provisions while at the same time being just, and how God was glorified through all this. These pillars serve as a reminder that we too need to live life that is pleasing to God so that when other people comes across us and asks about our lives, God's name will be glorified.
SOLOMONIC GATE
King Solomon built this city gate to fortify the trade route in Gezer. A city gate was a place for people to encounter the king, for judges to rule, for public speaking, meetings, hangouts, protection from the enemy, and served as a precursor to the synagogue. The city gates closed at night to protect its inhabitants from outsiders. In Revelation 21:25, it says: "On no day will its gates ever be shut, for there will be no night there." The glory of God gives it light and there will be no need to close the gate as there will be no more enemies.
OLIVE OIL PRESS PLANT
Olive oil is used for many different things including cooking, nutrition, preserving food, anointing, rituals, cosmetics, and oil lamps. This olive oil press is underground as its production needs a cool place to make sure the oil doesn't spoil. The millstone is used to crush the olives to extract the oil to what we call extra virgin olive oil. Then they would use the weight presses to make subsequent pressings to make virgin olive oil, light olive oil, etc.
"But He was pierced for our transgressions; he was crushed for our iniquities; upon him was the chastisement that brought us peace, and with his wounds we are healed."
Just like how olives are pressed down and hard to produce olive oil, so have our sins been pressed down onto Jesus, and what came out is this amazing healing oil of the forgiveness of sins.
CISTERN
We saw this amazing well-preserved underground cistern, from which people drew water. During the rainy seasons between October to March, rainwater was stored in the cisterns. It is nice to draw water when the water level is high, but when it's almost gone, the water at the bottom of the cistern is yucky and dirty. Jeremiah 2:13 says: "My people have committed two sins; they have forsaken me, the spring of living water, and have dug their own cisterns, broken cisterns that cannot hold water." Drinking water from broken cisterns will never quench our thirst. Living water will. So which do we want to choose: water from broken cisterns or living water?
I learned so many things today. More than words can say. I learned about God's provisions for His people (promised land), His protection over His people (the city gate), and eternal life (living water). We also learned about the story of Samson, about what NOT to do, to be careful with our eyes and what we see because our eyes can deceive us, but to learn to look through God's eyes. Lastly, on the story of David and Goliath, where David fought Goliath not with swords, but with God, and he did with what he knew best. Learning to be dependent to God and trusting Him completely is hard, but over and over again we see that God is faithful and He never leaves us.
Soli deo gloria.
By Vicky
Today's Photos