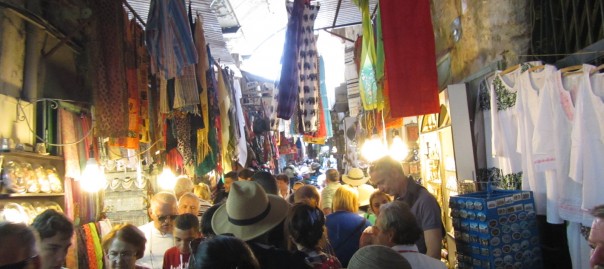 Day 11 – Learning With My Feet Oct 22
"It matters how you live." Â Pastor D spoke these words as we sat on the steps of the temple. It matters how you live. "This is how we know we are in him: whoever claims to live in him must walk as Jesus did" 1 john 2:5-6
We have walked! Desert, many flights of stairs, up hill, downhill and always negotiating rocky soil. Today, however, imagine a space with just inches between each hipbone, at times a 4′ clearance and water creeping up mid thigh. Turn after turn, navigating through a narrow, dark and wet tunnel. What an experience to walk Hezekiahs tunnel. Dug underneath the City of David, dating back to Hezekiahs reign to provide water during an impending siege. An unforgettable walk that we are not likely to forget.
Little did we know this would be the first of many tunnels for the day.
We briefly sat next to the Pool of Siloam where Jesus healed a blind man. John 9:1-11. The new beauty discovered from this story is the distance the man walked from when Jesus placed the mud on his eyes to the location of Siloam. Incredible evidence of faith and obedience.
On to the next tunnel, a long windy walk in what used to be a sewage tunnel. This was also used as an escape route for Jews while Rome was on the attack. During the excavation, items were found to confirm the location was used as Jews attempted to escape.
The tunnel provided a beautiful walk to the sight of the cornerstone. Scripture shouting "built on the foundation of the apostles and prophets, with Christ Jesus himself as the chief cornerstone" Ephesians 2:20. A perfect transition to our next location, steps of the temple. Grand, deep steps, to prevent people from rushing and dashing up to the top. The sun shining directly in our eyes forces extra moments with eyes closed and curious minds. What happened here? Who walked up these steps? Listening to the words of Acts 2 makes it very clear "suddenly a sound like the blowing of a violent wind came from heaven(v2)…..Everyday they continued to meet together in the temple courts" v 45.
It would appear these events alone provide a more than full day. One more stop after we enjoyed a delicious kabob lunch in the courtyard of the Jewish quarters in Old Jerusalem. It's impossible to travel here and not visit the Western Wall. Approaching the wall as a spectator you notice women on the right and men on the left. Walking closer to the wall a transformation begins to happen as you're drawn into what this wall represents, one of the most sacred sites of Jewish faith. Â Thousands come to pray, many are emotional and reverent towards God, others walking quickly to place their hand on the wall or place written prayers in the crevices of this place. Â This place causes me to think of the value of prayer in my own life.
Another great day in Israel! I'm understanding why I should do more learning with my feet. Be blessed!
Today's Photos