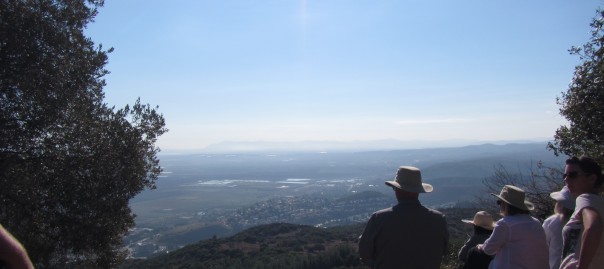 Day 10 – Treasures Oct 20
We were up on the beautiful Mount Carmel today, which overlooks the valley of Jezreel. The land is fertile and water is abundant, thus the name Mount Carmel, which means God's vineyard. We learned the story about Elijah from 1 King 17-18, how he passionately followed God, doing things that we may consider "too intense," gave offerings to God something that was in high demand (in this case offering big jars of water in the middle of a drought) – all the things that we may considered "too intense" or "over the top."
We know from the Bible how God was pleased with Elijah's love for Him and he was taken to heaven by a chariot and horses of fire. Then we read how Elisha asked God to give him twice as much passion as Elijah had (2 Kings 2:9) and he received it. This passage is about following God with passion. To give our ALL, not just some. We're to love the Lord our God will ALL our heart, with ALL our soul, with ALL our might. We can have that passion if we want to. Like Elisha, all we have to do is ask God to give us that burning passion, a renewed energy and the "fire of the Lord" will come down upon us.
"Then the fire of the Lord fell and burned up the sacrifice, the wood, the stones and the soil, and also liked up the water in the trench." – 1 Kings 18:38
We know by living day to day that we are likely to do good works and be successful if we're passionate about doing it. Likewise, if we are not passionate about what we do, it will show in the fruits of our labor. Following God passionately doesn't mean we will not experience challenges, struggles, or troubles. It is through trials that we will be able to make choices to obey His commands and as a result, our relationship with God grows deeper as we experience His faithfulness in our lives. As we follow Him, maybe there are times when we find ourselves at the back of the line or in the middle of the line. It is when we know that our walk with God is stagnant that we should ask for passion so that we can experience what it is like to be walking at the front line with Jesus. Pastor Danielle shared with us a story of a beggar who's been begging for rice all day long and found himself only with five grains of rice. Then he saw a prince coming his way and was so happy that perhaps the prince will give him some more rice. Instead, when the prince arrived, he asked the beggar to give him some rice and the beggar couldn't believe his ears. He finally gave the prince two out of the five grains of rice he has while still in a state of shock. Then he realized, after the prince left, that for each grain of rice he gave, the prince gave him a bag of gold. He wished that he'd given it all. This story is like our relationship with God. God always gives us good exchange rates. If we don't give our all, we may not experience the sweet blessings that God has in store for us, but when we give our all and are passionate about walking with Him, we will experience the fullness of His love in our lives. God's fire is bigger than any jars of water and will lick up the water for us. He is bigger than any challenges we face and we will overcome it if we stay faithful in our walk with Him.
We spent our afternoon in Caesarea, where Herod the Great built a magnificent palace, theater, amphitheater, hippodrome, aqueduct, and harbor that overlooks the Mediteranian sea. Not only that, he built a swimming pool of freshwater in the middle of the sea! It's just ridiculously mind-blowing how he was able to do all this with the technology that he had thousand years ago. It's spectacular. Imagine his lifestyle, all the wealth and power that he had, and if a person could have all that, what more is our God, who created the heavens and the earth. He is bigger than all things and he can make all things beautiful in His time. It is not wrong to be wealthy and powerful. But with great power, comes great responsibility and we have to be careful to not make them our idols. Jesus said: "Do not store up for yourselves treasures on earth, where moths and vermin destroy, and where thieves break in and steal. But store up for yourselves treasures in heaven where moths and vermin do not destroy, and where thieves do not break in and steal. For where your treasure is, there your heart will be also (Matthew 6:19-21).
We ended the day having fun playing on the shore of the mediterranean sea and had a lovely afternoon spending time with our friends. God is good. Soli deo gloria.
Today's Photos