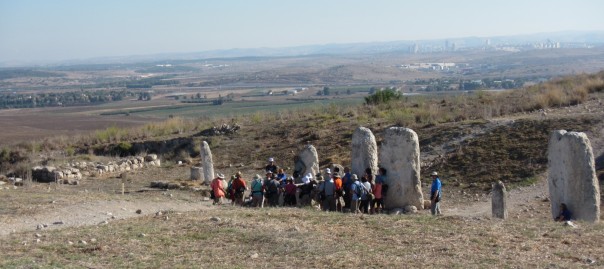 Day 1 – Arrival & Sataf Oct 12
TRAVEL
The joys of travel are often in the uncertainties and interruptions. While we all landed safely on an extremely smooth flight from PHL, due to some additional Israeli security checks, we were unfortunately a bit later than usual exiting Ben Gurion. The group was extremely patient and truly thankful for the thoroughness of the system, and it permitted time for our group to get to know one another and "bond" over this experience. It's been said that we have our plans, but "interruptions are God's plans." Embracing this ethic, though we missed our first planned site, we were able to augment that change by shifting our attention to the beautiful overlook of the Soreq Valley from our first site named "Sataf."
SATAF
In one of the main valley systems of the Shephelah – the Soreq – we got a glimpse of the landscape and geography of the land, an extremely important part of understanding our Biblical text and our ancient ancestors. We were able to touch and feel 4 of the 7 species listed in Deuteronomy 8: pomegranate, fig, date palm, and olive, understanding the fruitfulness of the land. We saw the terraced hillsides and cenomanian limestone, making that fruitfulness possible; perfect for an agrarian society. We even laughed as we considered Adam and Eve making coverings out of fig leaves … scratchy!
REFLECTION
With great anticipation, we head to our beds, hopeful for the jet-lag to wane, and very much excited for all that God has planned for us in the coming two weeks. "Give thanks to the LORD for He is good. His love endures forever."
Thank you for your prayers and support.
—Kevin