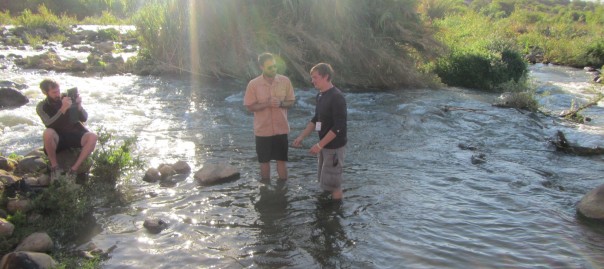 Day 8 – River, Mountain, and Sea Oct 9
This morning, we drove down to the Jordan River. It was beautiful! It gave us a picture of the setting that John would have done his baptisms and what the Israelites crossed. One of our team members was baptized, and the rest of us got in the river and did "mikveh." This is a cleansing ritual representing purification; we did mikveh as a symbol of recommitting our lives to the Lord. What a great way to start the day!
Our next location was the site of Luke 4:14-30. We were in Nazareth! We stood at the "brow of the hill," where Jesus was almost thrown off. This hill also overlooked the Jezreel Valley and Mount Tabor. Soon after, we were on Mount Carmel, where Elijah calls down fire onto the altar in 1 Kings 18 and destroys the prophets of Baal. I was surprised to learn that there may have been nearly 600 gallons of water poured onto the altar, because stone jars hold 35-50 gallons. Baal was believed to be the god of water and fire represents the presence of God. What a fascinating teaching! Another part of the lesson on Mount Carmel involved pouring into the generations after us. Elijah couldn't be taken away until he had Elisha to take his place. If we're not sowing into the next generation, what we have stops with us. But we can't pass on something that we don't have.
Our last stop was Caesarea. This was an ancient city built by Herod the Great in 10 BC. Caesarea was on the Mediterranean Sea and once housed the largest port in Israel. It was a massive city of enormous wealth, much larger than Beit She'an, the ruins we visited yesterday. It would have been the place where Paul came through on his travels, as well as a place of his imprisonment for two years. The conversion of Cornelius and his family occurred here as well, and this launched Brandon into a very though-provoking message. The angel that stood before Cornelius could have preached the gospel, but instead, the Lord had Cornelius call for Peter to preach the gospel to them. This is how God work 99% of the time. He's sovereign. He could do anything in a second. But He chooses to rise up weak vessels and impacts the entirety of humanity because a few people said yes. God doesn't need humanity, but He chooses to use us because He desires to be with us. He wants to reign WITH us! He's searching for friends. What if Ananias said no when he was called to meet Paul after his conversion? "If you don't do it, who will?" Ananias got a reward for his "yes," and it was the apostle Paul. We have no idea who falls within our influence. We have no idea what kind of impact we're making on humanity when we're faithful to the Lord with our "yes."
-Alicia Determan
Today's Photos