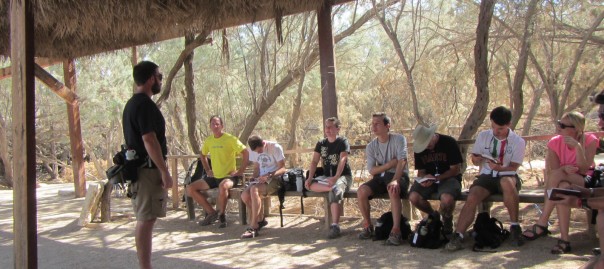 Day 5 – We Are The Body Oct 6
Today has been one of the greatest days yet on this trip! This was the first day that we actually went to a sight where Jesus most likely walked. We went to his baptism sight. When we first arrived none of us were certain as to what we were about to see. There was no rushing water, just trees and dirt. As we ventured a little into the wilderness we came to a sign that said "The Place Where Jesus Was Baptized." I think everybody was a little taken back. Again, there was no water to be seen or heard, Just a massive hole in the ground with fences keeping the public out. As Brandon began to speak more and more about the area, things began to make more sense. Jesus was most likely baptized in the spring when the waters were raging. Therefore, water would have made its way to this specific area. Things began to click in everyone's mind. This was where JESUS was baptized, OUR Jesus. It was one of the most sobering places.
Brandon spoke a lot on the church today. He had us helping each other and encouraging each other. He pulled all of that into his message about how the church is supposed to be. We are to be encouraging. We are to be helpers. We are to be caring and compassionate. We are called to be like Jesus. Every person in the body of Christ is important, even the ones that we might think don't bring much to the table. We need every single person. That is why we are called the body of Christ. A body has different parts for different functions, but they all work today. This is how the Lord is calling us as a church and as a community to be.
We are finally back in Israel and staying right beside the Sea of Galilee. We've all had our breath taken away. It's only been a few hours since we arrived, but God has been moving on our hearts. Seeing where lots of Jesus's ministry took place and actually getting to set foot on this ground has really touched us all. We can't wait to see what God has in store for us next!
Today's Photos