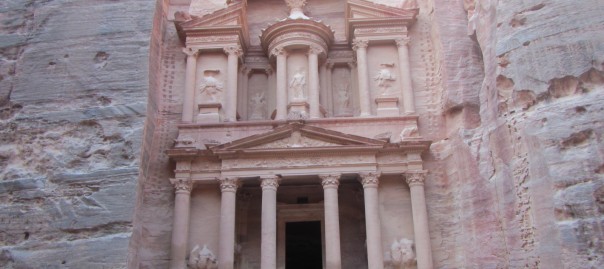 Day 4 – Petra and Mount Nebo Oct 5
Today was an amazing day! This was our first day in Jordan, which is like nothing I've ever experienced before. Though we haven't come very far, Jordan is very different from what we've seen in Israel. The nation is 90% Muslim and this is a very predominant part of their culture. Everyone we encountered in our journeys today was extremely kind and hospitable; they've made this a very enjoyable visit!
The first site we visited was the ancient city of Petra. The ruins were fascinating, dating back thousands of years, and we had an extremely knowledgeable tour guide! Our first lesson from Brandon took place at the very top of the cliffs above Petra. This was a "high place" where Baal was worshiped many years ago. One aspect of Baal worship involved sacrificing your firstborn child, so many of us experienced mixed emotions as we learned that such a beautiful place was also the place where children were murdered in demonic worship. Brandon had a powerful message on the mountain: the Israelites were called to be a light to the nations, yet they had allowed darkness from the surrounding cultures into their lives. In the church today, many attempt to be relevant to the surrounding culture to make an impact, flirting with darkness. The Lord is asking us to be consecrated unto Him, so much so that the world might say, "They're either crazy or that's really God." What are we offering non-believers when everything about our lives looks exactly the same as theirs? On our way out of Petra, we rode donkeys through the mountains! The views were spectacular. We also had the rare opportunity to visit a Bedouin home. They invited us for tea. We were overwhelmed by their hospitality and fascinated by seeing the Bedouin culture firsthand. Abraham and Sarah were Bedouins, so we experienced what their lives would have been like!
Another incredible part of the day was hiking up Mount Nebo. This is where Moses died! Brandon gave an extraordinary talk about the nature of God's leadership. God sent Moses into the wilderness for 40 years to learn how to become a shepherd. (The wilderness is the training grounds; it exposes what's in our hearts and is the environment in which God makes himself known.) The root word for "shepherd" comes from the word "word." A shepherd leads with words. In the wilderness, you would always hear a shepherd speaking to their sheep, guiding them with their voice. Their "rod," which is a symbol of ruling with fear, was used for the wolves and not the sheep. God's leadership, and the leadership He was teaching Moses, was not heavy-handed, but based on mercy. In Numbers 20, Moses rebuked the Israelites and called them "rebels." What's happening in this story is that Moses failed to call forth the Israelites' true identity and encourage them based on God's perspective; he reverted to his former way of leadership and it didn't honor the Lord. We are all leaders in some capacity in our lives. Are we judgmental leaders or mercy-based? Are we treating and speaking to people based on our emotions and human perspective or asking God how He sees them and calling that forth? The Lord is the perfect leader, and He's the Good Shepherd. We were encouraged to "get the Egypt out of us" and learn to lead like God leads. -Alicia Determan, 22
Today's Photos