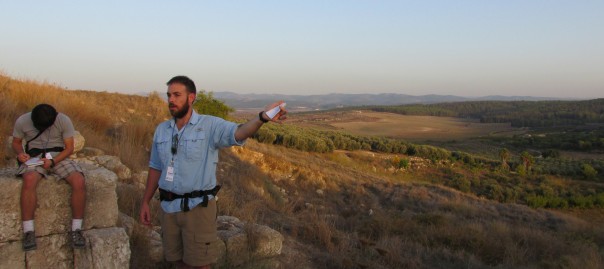 Day 1 – No Time To Waste Oct 2
We're here! We're actually in Israel! We didn't waste any time when we arrived at the airport in Tel Aviv this afternoon. We loaded the bus and headed straight for our first teaching destination, Gezer. One of our first lessons that served as an excellent introduction to our Israel tour took place within a cluster of olive trees. The trees were cultivated, but Marty pointed out several wild olive shoots coming up from the base of the trees. In Romans 11, Paul uses olive trees to describe the relationship between the Jewish people and Gentile believers. Gentiles are grafted in as young saplings to an ancient root system. We get to share in the nourishing sap of the olive root. We have not replaced God's people, but we've been invited to share in this covenant and cannot be "arrogant" or dismissive about our roots. It's by being grafted into this root that we bear much fruit, yet so many don't know anything about what they're being grafted into. Paul's metaphor of the cultivated and wild olive branches came alive as we received teaching near these olive trees. Throughout our hike, Brandon pointed out the physical representations of several other biblical metaphors.
We came across several large stones as we hiked around Gezer. These were "standing stones," commemorating something, similar to the stones Jacob erected at Bethel. They point to something; they're a representation inspiring worship. Brandon linked these to our lives and asked what kind of standing stones we're erecting. We're all representing something- what is it? What kind of legacy are we leaving? Another very thought-provoking lesson was related to the region we were in. We were in the midst of the shephaleh, "foothills." These were battle grounds. They were right next to the coastal plains where Israel's enemies were living. Brandon asked, "How is your shephaleh?" How is your success and influence when you live next to your enemies? Are you taking ground or losing ground in compromise? This was a very rewarding day!!
—Alicia Determan
Today's Photos