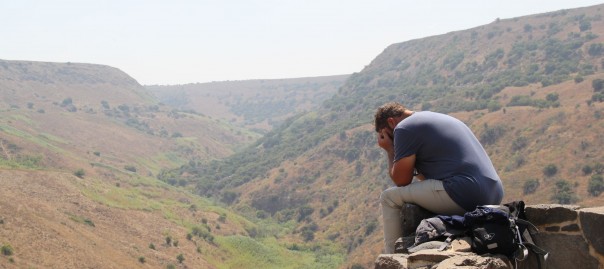 Day 6 – Prevail Jul 23
Day 6 of our journey and we are beat up, tired, sunburnt, and more, but the trip continues to be amazing.  We started the day reflecting on the importance of seeing G-d in the everyday small things of life and quickly loaded onto the bus to begin.
Our first stop came at Gamla.  Here we hear of the Jewish Revolt that began in 68 AD.  Gamla was a Zealot stronghold on the northeast part of the Galilee.  It is an impressive setup, essentially built into the side of a steep mountain.  This is the place that put Josephus Flavius into position to become the world's foremost Jewish historian.  We also discuss the working of a first century synagogue.  The synagogue in this place is first century and is almost certainly a place that Jesus would have visited.
Our afternoon takes us further into the Golan Heights to Banias and Caesarea Philippi.  Banias is a spring, one of three that are the headwaters of the Jordan River.  A smooth walk along the spring brings us to the center of the worship of the god Pan in this area of the world.  Pan worship was very disgusting, and a description is not suitable for this page.  Jesus brought a group of young boys here and declares that the gates of hell itself cannot prevail against the Kingdom of God.
Finally, we travel to Omrit.  Several of us spent the first twenty minutes of our time here excitedly running around and investigating all of the newly unearthed architecture of this massive structure.  It is presently thought to be the entrance gate into Israel along the Damascus road.  We learn of tribute to Caesar and to G-d and conclude our day wondering whether Paul walked along the very pavers that we found today.
Today's Photos