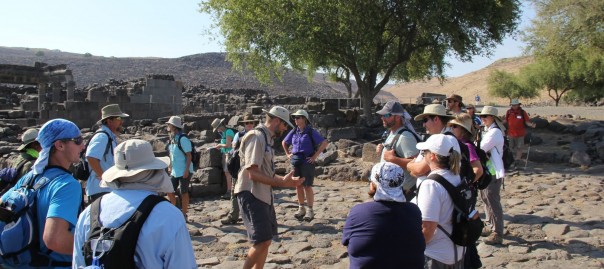 Day 5 – Hometown Jul 22
Dear friends and family,
​Life apart from you is glorious at times, and sucks at others. Camp is fun. We are learning to play as a team, and care for one another. Day by day, we have special events where God tees up wonderful moments and reminds us of how He knows us so well as Creator, and loves us so much, as intimate Father. Today, we left the desert (hooray!), and drove from the death of the washed up, non-sharing, Dead Sea, to the life giving flow of the Sea of Galilee, brought to you by springs of living water, and, of course, the Jordan River.
​Starting at the road-side stop to see a real Jewish shepherd in action, we learned about what David means by green pastures and paths of righteousness. For you leaders out there, don't call the sheep from too far ahead, or they will stumble down the mountainside trying to catch up. Only go a few steps ahead (your Word is a light unto my feet and a lamp unto my path (lamp, not spotlight)). Use your voice (which they should know), or rocks to guide them in the way they should go (and discipline – letter to the Hebrews).
​After dangerously crossing the street, we reentered the bus and headed north. Jesus spent 80% of His teachings in this region, the Orthodox Triangle, no offense to you Dukies out there. Whilst in the region, we learnt of Jesus' feeding of the 5,000 (symbolizing the Torah), and looking across the sea to the pagans, where He fed 4,000 (symbolizing the four corners of the world). It turns out the numbers in the Bible actually do matter.
​​At Capernaum, we visited the Oxford of Jesus' day. Apparently our Lord hung out with snooty intellectuals, and corrected their theology. There we visited Peter's house, where Jesus likely healed Pete's mom, learned of millstones, and about Jesus as a tekton (not wooden carpenter for all you Meet the Parents fans).
This afternoon we ate falafel by the roadside. It is mediocre. (Editor's interjection: Matt has bad taste. It is phenomenal.)
​We journeyed to Bethsaida, to learn about insula (a concept taken from the from the Babylonian captivity – scary!), and had a very powerful moment for Jason (Bracken school leader), when we entered the Bethsaida school and Jason stood in the middle of it. We all gathered round Jason, laid hands on him and Scott prayed a beautiful prayer of identity and blessing over him. We all had chills and his spirit was lifted greatly.
​Also at Bethsaida, Hannah was married to a nearby boy, Sh'muel, who we agreed was a viable suitor. Scott taught on how the wedding proposal to Hannah was much like the Communion offering Jesus asks to us, basically inviting us to be His bride (slightly awkward for the guys, but still flattering giving the invite comes from Jesus).
​Also at Bethsaida, we saw the potential home of five of the disciples. (can you guess which ones?) So many pillars of the Church from one town. So we invite you to ask, Who are the young people in your church? Have you shown them how much God loves them to be able to follow Him like these disciples?
​We also heard a chilling story of Philip's death, where being asked to renounce his faith, his attackers raped all of his daughters many times. Each daughter was said to encourage Philip NOT to renounce Jesus. It was a powerful place to say the least.
​This evening we had a lovely meal, and took an evening swim in the Sea of Galilee, watching the moon rise over the northern hill. We quickly realized why Jesus spent so much of His time here and the Spirit had to drive Him to the desert.
​The Galilee is beautiful and pictures are to follow of the colorful countryside with rolling hills overlooking the giant fresh water sea (welcome change from the Dead Sea).
​The group is doing well, but is starting to be tired and miss home. Please pray for manna along the way. We miss you lots, but are glad to be so far away that we can miss you.
Love,
The Group
Today's Photos