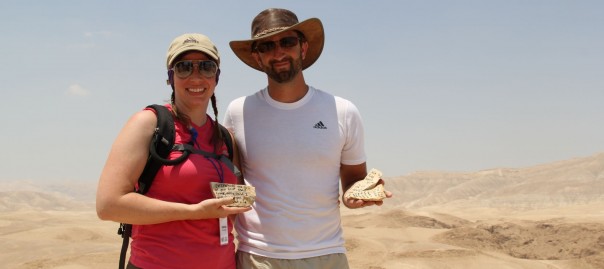 Day 4 – Rewarding Jul 21
Today is one of the most difficult yet most rewarding days of this trip. After passing into the west bank, we continue to northern tip of the Dead Sea. Here we find the Essene colony of Qumran. These people were completely dedicated to the text. We visited their scriptorium and discussed the painstaking care taken in writing the Torah scrolls. The common dining hall was a favorite, as we discuss our experienced with common meals.
Finally, we begin to ascend the mountain backdrop. The climb is excruciating at times, but we are rewarded at the top with the experience of learning that those that have visited before us have prayed for us here.
Next we move to Ein Gedi. As we move into the afternoon, the day is growing hotter and hotter. However, we quickly see that in the middle of the harsh desert, we are at an oasis. Natural springs have flowed from this place for thousands of years. We learn of the living water, and eventually get to immerse our selves in the living water of this place.
Today's Photos