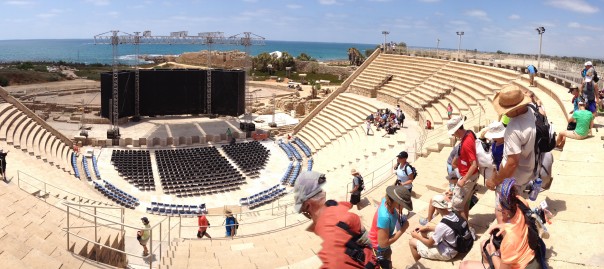 Day 5 – Tired, but far from done. Jun 27
Today started at our hotel in beautiful Netanya, on the Mediterranean.  After breakfast and devotions we headed up the coast, then inland to the base of a mountain we soon learned was Mt. Carmel.  Out of the bus and up the mountain – another tough hike with lots of scrambling over rock formations and slipping on the gravelly path.  At least this area was not as hot as the desert, although the humidity challenged and drained us.
Maybe about halfway up, we encountered a very old olive grove with some ancient trees – some probably as old as 1,000 years (there are some living olive trees in Israel that are said to be 2,000 years old).  What you see with an olive tree that old is a gnarled old trunk that has at some point been just lopped off, but with new shoots that grow out of it, and bear fruit.  Wild shoots can even be grafted in, and they will bear good fruit, supported by a good root system.  Read chapters 9 through 11 of Romans to complete the picture of God's inclusive grace to those of us who are Gentiles, and how that should humble and challenge us.
At the top the view was fantastic, with the Megiddo Valley, Mt. Tabor, Mt. More, Mt. Gilboa and others in view.  The valley was vast and fertile, and breathtakingly beautiful.  On this mountain we are on, Elijah once challenged the people of Israel to finally make a choice.  Either worship Baal, or worship Jehovah – but no longer both.  Rabbi Rod spoke to us with passion about this choice, which is critical yet today.  Will we have one foot in the world, with God as our friendly support system, or will we be sold out for the Living God?  As we listened and were challenged we were led to a time of confession and repentance as a group, and we shed tears and made decisions and knew that we needed our God to strengthen us, and we needed the body of Christ to encourage us.  Family bonds are forming here.
After lunch, a visit to the ruins of Caesarea, back on the Mediterranean shore.  Here we were  challenged again to run the race set before us, to be radical in our devotion to Christ, and to remember that "great crowd of witnesses" spoken of in Hebrews 12:1.  This was a stunning place in its day, with its arenas, the palace of Herod, and the glorious temple of Caesar – but it's all in ruins now.  Nobody worships Caesar anymore, but our Jesus, born in a humble manger and put to death on a cross, rose from the dead is is now and forevermore King of Kings.
The last stop of the day was just outside Nazareth where this King of Kings was raised, on another mountain-top (this time reached by bus!) call the Mount of Precipice, which is said to be the precipice in Luke 4.  This is where the people, furious with Jesus's challenge to their worldview, determined to throw him off the cliff – but he miraculously walked through the middle of them.  Again we were challenged to take this Christ seriously.  He is offensive!  If we don't get that, we don't get Him.
And now we are descending the winding road to the Sea of Galilee, where we are to spend at least the next couple nights.  So beautiful, and so full of history, it's exciting to contemplate what lessons we may learn in this area.  We are tired, but far from done with this journey, "learning with our feet."
And by the way, Happy Birthday to my beautiful, passionate, Godly wife Stephanie!
—Fred Patten
Today's Photos