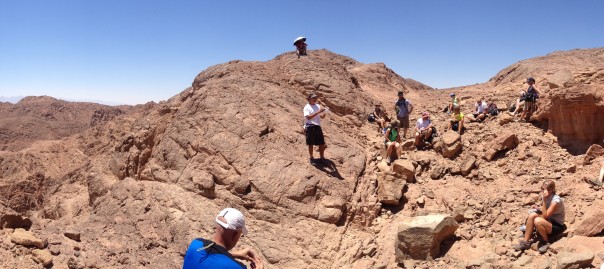 Day 3 – Devotion Jun 25
"Devotion. Live a life devoted to serving ME, Elise." The calm wind brushed across my hot, sweaty face as I felt the Lord press this into my heart. We had just climbed 7/8ths of our longest hike yet and took a few minutes to be silent and still before the Lord.  I was thankful to be alive, healthy, and on this beautiful mountain, but somehow I couldn't allow the thoughts to escape of the many, many times I've been disobedient to God. It was around this time that the verse we began our morning devotion with came to mind, "Count it all joy, my brothers and sisters, when you meet trials of various kinds, for you know that the testing of faith produces steadfastness. And let steadfastness have its full effect, that you may be perfect and complete, lacking in nothing." (James 1:2-4) Of course I wanted to be steadfast, but I was failing to see the Lord's perspective on this one. I wrestled with these verses throughout the day because my heart was right there in the middle of the tug of war. They were comforting, in regards to God being with me as I encountered each trial, but also overwhelming, in regards to the goal of perfection placed upon me. It was here that Rod taught from 1 Kings 19. Elijah prayed for God to take his life, which God didn't do, but instead gave him food and everything he needed to be able to ENJOY his current circumstances. I felt like Elijah in the past, unthankful for life's circumstances or wanting to run from life's problems.  "Enjoy this Elise," I felt pressed on my heart. Just like God spoke to Elijah, not in the earthquake or fire, but in the small voice, I recognized the immense significance silence has played throughout varying seasons of life. I deeply enjoyed the opportunity to be able to sit, listen, and marvel at God's creation throughout history, but also the opportunity God gave me to sit or wrestle with unwanted circumstances, fear, emotions, unfulfilled dreams, and/or future plans that gave me discomfort. He never gives up on me.
We soon arrived at the top of the mountain, which was located in the Sinai Desert in Timna Park, and gained an even more spectacular view. It was here that Rod shared Exodus 19 with us. What stuck out to me was that even though Israel failed all three tests God asked of them, He STILL wanted to bring them to Himself at Mt. Sinai. It was here that I really identified with the Israelites in their failures, but also in their identity as a chosen and treasured possession to God. I am super passionate about our identity to God so I was very thankful for this life giving reminder. I am chosen! I am a treasured possession! His promises were brought to life at the top of that mountain. I was also reminded that God's love language is obedience and that the daily choice is mine to love Him with everything I've got. It was here that things were beginning to come full circle. God gives me the opportunity to love and please Him more and more each passing day! Regardless of the amount of trials that lead me towards steadfastness, I have the immense blessing of being able to walk obediently with my Beloved God, because I wouldn't be anything without my marriage covenant to Him.
"The voice of my beloved! Behold, he comes leaping over the mountains, bounding over the hills. My beloved is like a gazelle or a young stag. Behold, there he stands behind out wall, gazing through the windows, looking through the lattice. My beloved speaks to and says to me; Arise, my love, my beautiful one, and come away." Song of Solomon 2:8-10
—Elise Schubring
Today's Photos