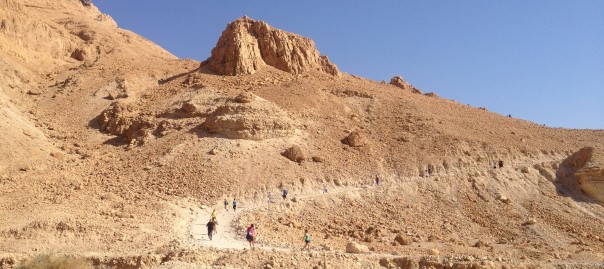 Day 2 – Completeness and Solitude Jun 24
For me Masada was an emotional roller coaster, I was broken by the experience and realizing how inadequate I am. It is over a mile of snake trails and 1400 feet up. I am someone that loves to think that I am completely good, I can do anything and I have done most things, but once you encounter something like Masada, it is a mountain that makes you rethink who you think you are. I realized that I am completely helpless and the only thing that I could think of was a verse from exodus 15:2 "The Lord is my strength and my song, and he has become my salvation; this is my God, and I will praise him, my father's God, and I will exalt him." I was completely without strength and the only thing that I could do was take a single step. Every step I had to decide to take another one. I was by myself and ready to give up every step, but the community came around and a Great guy named Jeremiah walked me up the rest of the way behind me, gave me some sport beans and just kept pushing. Overall Masada is a killer, until you go to Masada, you won't understand. It is will break you and build you up all within a couple hours.
After Masada we were onto tel Arad, there was built a Temple on the site which is basically a mini version of the temple in Jerusalem, but according to God that was forbidden and so once a true reformed king (either Hezekiah or Josiah) came to power they destroyed the temple and buried it. There we talked about the sacrificial system of Judaism. When God made his covenant with Abraham, the terms were easy it seemed at first, God was going to bless him, make him a great nation, and make him extremely wealthy. Abraham was blown away by what God was going to give to him, and then God told him what he demanded in return: Perfection. At that point it said that a deep darkness descended Abraham because he knew that what God demanded was impossible. He was a dead man. When he prepared the ceremony to formalize their covenant, Jesus came down and walked through the path of blood, and as Abraham stood up, Jesus walked through the path of blood again. Saying that no matter what happened in the covenant that he was going to be the one responsible. It is an amazing picture of the Grace that God gives and has always given to his people.
Then, we moved on to the Tzin Desert, a hike for solitude and a time to reflect. He gave us Deuteronomy 6 & 8 to meditate on. As we all were sitting in our individual quiet spots, 40 or so young brits started singing every Disney animated movie song you could think of. The Bear Necessities, Hakuna Matata, etc. they hit it all. And so as you can imagine the time for solitude was broken to pieces and as we reached the top of the canyon climb, Greg had a nugget of wisdom. The world will always intrude on us when we seek solitude with the Lord. It is inescapable in our iphone and internet filled lives. That is why God brings his people to the desert.  He wants to cut us off from the world and the distractions and to give us a place to hear his voice more clearly. To press in deeper.
Our last short stop of the day was a valley with a name with Crater in it. I am sorry I can't remember the name of it but Libby talked about the Word. How the word in Hebrew is dbr and the base name of honey is also dbr. The name Deborah is also from the root word of dbr and means honey bee. God says that the Word is Honey on our lips. Taste and See that the LORD is GOOD!
—T.W. Barker
Today's Photos