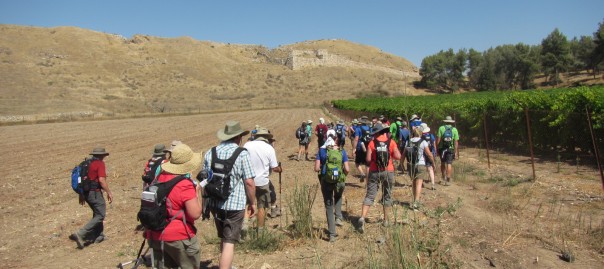 Day 1 – First Day in Israel!!!! Jun 21
Hey ya'll, we just finished our first day in Israel and it was awesome!!!!! We went to Yad Heshamona and had a quick little devotional.  Then we went to Beth Shemesh, Azekah, Caves of Adullum and Maresha and Lachish.  Each site we learned not only about that site but also a little take away devotion that we learned from a story that happened there.
At Yad Heshamona, we learned that it was made as a memorial for 8 Jews that died in the Holocaust in Finland, also, that it is a part of the Kertath Jearim which was where the Ark was held before David brought it back to Jerusalem.  Next was Beth Shemesh, were we learned about the story of Samson again but this time it because so real.  We also saw a cistern, which is where they held water, like a well.  Then we went to the Tel of Azekah and climbed to the top and saw where David fought Goliath.  This story especially became more real because after seeing it I could totally visualize! At the Caves of Adullum, we climbed through very small tunnels that led into only slightly larger caves where David hid from Saul.  We read Psalm 57 in the caves.  To me, this was the most amazing part of the day, not only do I love exploring caves, but to be in the caves where David could have written the Psalms.  It was just so unreal to me that someone could have lived there for so long, I know I couldn't have done it, plus reading Psalms there, I just felt God's presence so much stronger than before, I can't really explain it, it was just amazing!!! Maresha was basically an underground city.  This city's main income was pigeons, yes pigeons.  They used them for sacrifices and many other things.  It was so much cooler down under than up top so it made total sense why they lived underground.  Our last site was Lachish. Lachish was the last of the 4 gateway cities that protected Jerusalem.  It was a very large Tel, and it was so cool to see and visualize how it was such a great strategy to have a city on top of a hill, or Tel, and how it would have been a great defense.
I am so grateful to be able to have come on this trip!!! Thank you so much for your prayers, they are greatly appreciated and we all ask for you to continue to pray that the Lords land touches us in so many new ways!
—Erika Suppe
Today's Photos