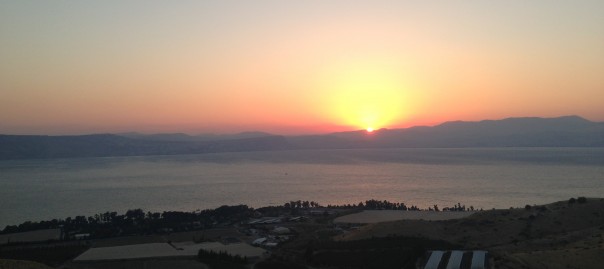 Day 4 – Designed to Depend Jun 21
Our adventure continued today with a visit to Capernaum, where Jesus lived and taught. A hike took us up the hills near the Sea of Galilee close to where Jesus gave the Sermon on the Mount, where we too listened to the sermon recited by some of the group members. We went for a swim in the Sea to cool off. In the evening, we hiked up to watch the sunset and learn more about the story of Jesus casting out the demons into the pigs. But, of all of these incredible moments, the most interesting and exciting parts of the day for me took place in Chorazin, a city within the triangle where Jesus carried out a lot of His ministry.
The city was small by our standards, each family had one little room to sleep and the rest of their time was spent out in the courtyard with the community. We are not meant to be sitting in our houses all alone, we are designed to depend on each other and encourage one another daily. Tim used the image of this town to tell us what Jesus meant when he said "My Father's house has many rooms; if that were not so, would I have told you that I am going there to prepare a place for you?" John 14:2. He didn't mean mansions with giant rooms and closed doors, he was talking about a community similar to this one where people live on top of each other and have the opportunity to love one another every day in the courtyard.
Then we talked about disciples. Big eye opening moment. The disciples, the ones we see in the pictures looking beardy and buff… they were probably actually 13-15. They were just kids! And when Jesus called them to follow Him, they knew what an honor it was to be chosen by a rabbi to be a disciple and how passionately they followed His footsteps and wanted to be like Him. I had never thought about it that way, how honoring it is to be chosen to be a disciple of the Lord.
And so we have to ask ourselves:
Do we humble ourselves before Him in love and passionately seek to be like Him?
How intensely are we following the Rabbi?
-Susanna Shearier
Today's Photos