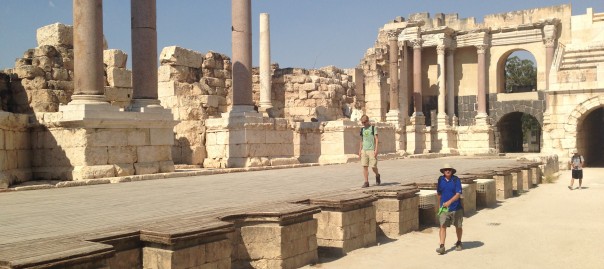 Day 6 – Wow!!! Jun 24
Quiz time:
What's brown, hot, and prickly? …………………………………. Israel
What's rocky, hilly, and dusty? ………………………………… Israel
What's beautiful, historical, and amazing? ……………………………………. Israel
Truly, Israel is all that and more.
Our day started off with a short bus ride to Mt. Arbel (The Mountain of God).  On the way we learned to sing Happy Birthday in Hebrew and sang it to Liz.  Happy birthday, Liz!  The hike up one side of Mt. Arbel and down the other was a bit sketchy being about as close to cliff climbing as you can get and still call it hiking.  All made it safe and sound, and on completion, were treated to some nice shade and time to read and reflect on Psalm 121.
Back to the bus and on to our next stop, Areamos Topos, a crusader fort.  Here, Tim laid it all out about living the life that models Christ's life and teaching.  The crusaders would be considered a "non-example".
Lunch was a little hole-in-the-wall place alongside the road, but we all enjoyed a very tasty Falafal sandwich and some of us even indulged in ice cream.
The temperature at this point was about 105 degrees and rising.  The AC equipped bus delivered us at Beth She'an, which was a city that belonged to Alexander the Great.  It was amazingly impressive with its pillars, amphitheater, hot baths, sports complex, education center and much more.  Hard to imagine how such a place could be built so long ago.  Tim compared this city during Jesus' day to our Western society today, impressive on the outside but desperately lost on the inside.  It is interesting to note that Jesus travelled very close to this city many times but no mention of ever visiting it.  Hmmm?  Christ builds his Church from within!
Our last stop was fantastic.  We were able to have our own private baptism and dedication service on the bank of the Jordan River.  Several were baptized by Tim and Brian and many hopped in the river to dedicate their head, heart, hands, and feet to the Lord.  It was a great way to end the day.
Tomorrow we turn toward Jerusalem.
Thanks for following along.
—Ron & Alida Hanson
Today's Photos