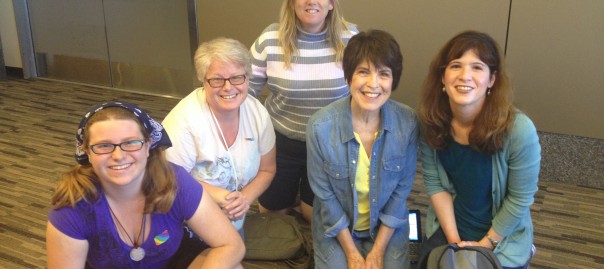 The Adventure Begins! Jun 9
It was a Sunday afternoon on a stereo-typical June-gloom day at LAX, when 21 travelers gathered at gate 123 with varied anticipations and even apprehensions!
Pattie Krohn was pinching herself as she looked across the Turkish Airline gate!
Olivia Krohn was ready for an adventure! One that she hoped would not just cross country lines but also take her closer to Christ.
Margaret Bowlin was oblivious to it all as she sat on the floor by her Mom, reading her book. Wherever she goes, home or Israel, two things don't change: her reading habits and her love of God and sense of adventure as she seeks Him.
Anna Hawkins is already blown away by God's gracious provision! With each mile she drove away from home God's peace increased more and more. As she sat at the gate waiting for her flight the excitement of our adventure settled in where anxiety and missing her family had once resided.
Tracy Weisbrodt FINALLY felt excited for the first time since she signed up. YAY! What is she excited about? How about learning more about where my Christ lived, walked, taught, and gave His life for her. What else? Getting to know these amazing people she is traveling with. Oops she ended a sentence with a preposition.
Stephanie Collins is SO excited to see what God has in store for her. Already broke my sunglasses and had to spend 200 on new ones at the airport. Oh yea, and I'm bugged at Pattie for making write this!
Jeanne Falkenstein is excited to go "home" to Israel and to be sharing this travel adventure with her beloved Dad!
Deborah VG is ready for a firehose experience.
Alan is intimidated, but grateful to be here with his daughter.
Heather Bowlin is excited and nervous. To be with God's people in God's land! AMAZING!
Maureen Freitas is excited and tired. Can't believe I'm going to Turkey & Israel! Love to my family.
Melanie Halajian is excited to be embarking on the adventure of a lifetime in the land of the Bible.
Joe and Sandy Farkas are very excited to be on the GTI Tour and anticipate a wonderful experience and trip. Shalom!
Looking forward to a very meaningful experience in the holy land! It will be a time I will always cherish. Love to my family, Marvie
One step closer to our destination of Israel. I can't wait to see and experience the land I have learned about for most of my life – Keri
Wow, I am feeling like this is really happening now and it is truly exciting. We've done a lot of studying and just yesterday I watched a documentary on the miracles that have happened in the land of Israel and even in recent history. – Michelle
Sami is getting anxious to get on the plane that is boarding right now! Why? Because her mom says they are always late for everything….
Can't wait to meet my LORD in His land and with His people. Shalom, Anita