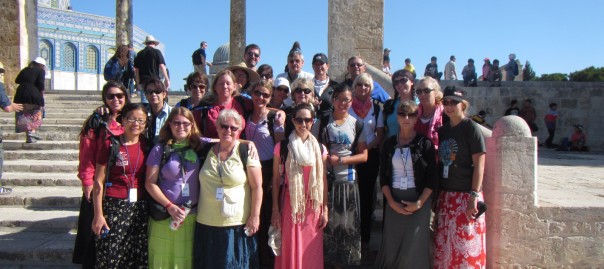 Day 7 – Mountains and Tunnels Jun 17
We only have TWO MORE days! This has been 7 days of community, testing, shaping, preparation, and letting go. We woke up in Jerusalem and headed to the Temple Mount where we had to don our "modesty kits" and leave behind our Bibles. Once we entered the Israeli security gate guarded by Israeli Police, we were encountered by the Muslim Waufk who oversees the religious leadership of the Temple Mt. where they requested that several of the women cover their shoulders (note they were selected from our group of others who were dressed similarly). The encounter was more symbolic rather than justified in order to show respect for the Muslim presence. We then reached the steps to the entrance of the Temple Mount also known as Mount Moriah – the place were Abraham, as instructed by God, to sacrifice his only son, Isaac. This is also the place where Jesus cleared the temple, scattered the money changer's coins on the floor and turned over tables and states, "Get these things out of here. Don't turn my Fathers House into a marketplace."
As we sat near the temple, our teacher, Matt taught on the story of Isaac and we read from the Word of God. How? You ask (since we left our Bibles on the bus)? The ancient invention of the iPhone – where we read the story VERY quietly. Next, we read (again quietly) from Romans 8:28-39 where it so appropriately states that "…nothing can separate us from the love of God." This lead us to 1 John 4:19,"Not that we first loved Him but He first loved us.", which then lead to Matt leading us in the Shema (based on Deuteronomy 6:4-6). This was a very powerful moment.
Like this was not enough, we headed to the Western Wall (formerly known as the Wailing Wall). We prayed and observed – what an honor to be able to experience such a moment.
Next, we caravanned our way on foot through the city to Hezekiah's Tunnel that was channeled from the Spring of Gihon by Hezekiah to bring "living water" into the City of David by way of the Pool of Siloam. We made our way down a steep, dark cave that lead to a tunnel of water that is STILL flowing with living water. We had our flashlights to guide our way in addition to our brothers and sisters guiding those of us who forgot our flashlights. We the reached the Pool of Siloam, which was the backdrop to the blind man Jesus encountered in John 9:1-7 where he was healed.
In Bethlehem, we visited the Church of the Nativity that stands atop the place where Jesus was born. Pattie reminded us that Mary did not bring Jesus to the world, but instead that Jesus brought Mary to the world.
The Lord then brought us to the final site of the day, but before we tell you what "it" was, lets share why…Isaiah 56:5, "To them I will give within my temple and its walls a memorial and a name better than sons and daughters; I will give them an everlasting name that will endure forever." The site was Yad Vashem meaning "a hand and a name" (a way to commemorate or memorialize). The site was a way of memorializing the Holocaust. There were galleries that identified the 6 million men, women, and children that perished. This just brings to mind the parable Jesus told "to some who trusted in themselves that they were righteous and treated others with contempt."
Layla tov,
Stephanie Collins and Tracy Weisbrodt
Today's Photos