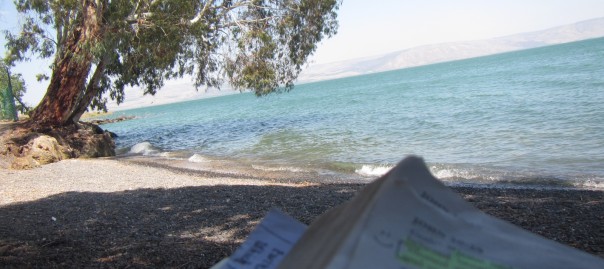 Day 4 (Corrected) – Surreal Jun 14
Today was a surreal day. Not only did we see highway signs with names of cites in the Bible, we got to visit those places and be taught in the same areas where Jesus did his earthly ministry. We began the day with a hike up Mt. Arbel, including a visit to the crusader cliffs along the way. Next stop was the City of Tiberias where we visited the Magdela center. Our next destination was Tabgha where Jesus called his first disciples. Next was Capernaum, home base of Jesus ministry. We ended the day at the Mount of Beatitudes.
At Mt Arbel we learned the need to think of others instead of ourselves. This was evident in our journey up the steep mountain. The foot of the mountain is 700 feet below sea level and we climbed a total elevation of 1,300 feet. From the top we had a magnificent view of the Sea of Galilee and the "triangle cities," Capernaum, Chorazin, and Bethsaida where 70 percent of Jesus' miracles took place. This is important because the triangle is located along the Via Maris, a major trade route during this period. Mt Arbel is considered by the Jews the mountain of prayer. It is at this mountain where Jesus is believer to have gone regularly to pray by himself and seek God's direction. Matt 28:16-20 notes that this is the same mountain Jesus told the disciples to meet him after his resurrection and gave them the Great Commission. At this location we learned how we are to pray and ask God to teach us to pray. This is the same mountain where Jesus was able to see his disciples in the boat crossing to the other side when a storm erupted (Matt 14:22-29). We were challenged to reflect on our own prayer life and rely on our Heavenly Father in time of need.
City of Tiberias – Our mains stop here was to the Magedela center. This location was significant because it included one of the seven synagogues discovered in this area just two years ago. It is currently being excavated. At this venue, Pattie taught us about Mary of Magedela and how he called her out of her life of demon possession and hopelessness. (Luke 8:1-3; 26-29). We learned here that we need on-going redemption: people need to see our lives changed by Jesus and not merely cling to what he has done for us in the past. Jesus calls us to move forward. We were left ponder the questions: Am I clinging to the past? Where am I going to take it from here since Jesus has intercepted my life?
Tabgha –Two miles outside of Capernaum was our next stop. Tabgha is believed to be the place where Jesus called the first disciples. Matt 4:18-20 and Luke 5:1-11. As we sat there reflecting on the actual shores of where Jesus walked and listening to the waves crash on the shores, we were challenge to reflect on our own lives with the question of where were we when Jesus called us individually. Through the teaching of this day we were also challenged to follow Jesus not because we get anything in return, but to follow him because he called us to. Jesus asks us to follow him even though he knows what we have done, he knows what we will do, and he still is calling us today to come follow him. We also learned that our failures cannot dwarf our faith in Him. We were left to ponder our faith and walk with Hebrews 12:1-3. We are to keep our eyes on Jesus no matter how the circumstances may present itself.
Capernaum- From Tabgha we journeyed north of Galilee to Capernaum. Capernaum is known for where Jesus did his teaching in the synagogues. It was also here that we were able to see the home of Peter's mother-in-law. The exciting thing about this location is that lots of things happened in this area. In this area a Roman centurion (Matt 8:5-19) came to Jesus asking for healing on his servant. Because of the centurion's faith, Jesus healed his servant because he had not seen faith like his in all of Israel. As we were sitting in Capernaum studying God's word Matt, our study leader, brought to our attention that Sabbath was to occur within a few hours and for us to look at our text Mark 1:21-28. We were reading the text and it was at that exact moment we realized that it was almost the Sabbath time here. How surreal and cool is that to be experience God's word across time at the exact moment.
Mountain of the Beatitudes- This was our last and final stop. It was a short little steep hike. We did not know where we were going but once we reached our destination Matt told us we were sitting at the area where Jesus taught his disciples and the people on the Sermon on the Mount. Matt 5:1-12. What a great way for us to hear scripture being read and being able to reflect and see the area around us. We were challenged at our last stop to reflect on what areas in our lives need to be under Jesus' care and not our own care. We went around and shared what those areas were and we also shared our amazing ah moments with one another. It was truly an amazing day. May God continue to reveal himself to us and may he continue to push us forward towards him as we trust in Him completely. Please continue to pray for us that our lives will never be the same. May God reveal even more to us tomorrow as we trust in Him completely on this trip. We were promised that tomorrow is an even BIGGER day. We can't wait!
The 5am Crew ;)
(Melanie Halajian and Anita Lee)
Today's Photos