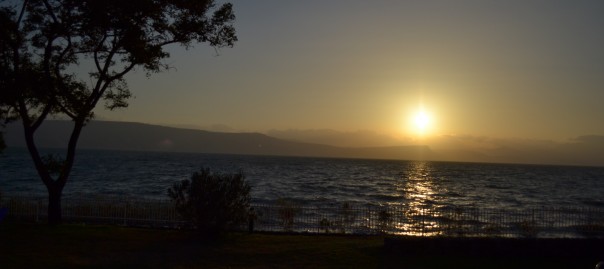 Day 5 – Proximity Jun 14
Our second day on the Sea of Galilee was great. One thing that stands out in my mind is how close these locations are to each other around the Galilee. I've always envisioned Jesus and the disciples covering great distances during His ministry, like we do in our modern society. Being here, it is neat to experience the reality that these villages and towns were within walking distance of each other, and by today's standards pretty close together. We visited some great places today (none of which we walked to, thanks to the best driver in the country) around the Galilee and further into the surrounding mountains.
We first went to Kursi. As we sat in the ruins of an old church, Rich, told us the story of Thaddeus. After casting the legion of demons out of Thaddeus, Jesus instructed him to tell everyone what had been done for him. Thaddeus's witness eventually led to many in the area coming to be healed by Jesus on His second visit to the area. We too have a story and a witness to share. Next stop was in Qatzrin, where we visited an oil press and a village. There we discussed the process of growing and processing the olives. Then we saw first-hand what the villages used to look like, and learned how the bride groom comes for his bride. Jesus will return for His bride, and like the Israelites did, we too must make ourselves ready for the return of our Bride Groom. North of the Galilee we visited Dan and Caesarea Philippi. Both stories tell the woes of people who allowed un-Godly influence to corrupt their lives. God will tear down every evil thing, and as we read in Matthew 16 "upon this rock I will build my church". When the old evil ways have been destroyed, then God can come in and "rebuild" His church in each one of us. Just before going home for the night, we stopped at the Jordan River. There we were allowed to be baptized in the Jordan. In that "Living Water" so many others were baptized as they came to believe in the Messiah during Jesus' and the disciples' ministries. This trip would not be complete without experiencing Shabbat. What a great way to end the night.
We have all learned so much in such a short amount of time, and we love and miss each one of you. I will leave you today with some thoughts from one of our companions.
"We all probably start out going to visit Israel for different reasons, however, keep an open mind and listen. He may be calling you home for a completely different engagement. I was not sure, but I knew I was going home to search my family roots, not biological roots. I realized today that I was continuing the preparations for my bridegroom. As a bride awaits her groom to come for her, she learns what pleases him, how to honor Him, and to keep herself pure for Him. I washed myself clean using His example in the Jordan today. I will continue to await His greatly anticipated coming to take me as His Bride!"
Rhonda Woda
Shabbat Shalom!
Today's Photos