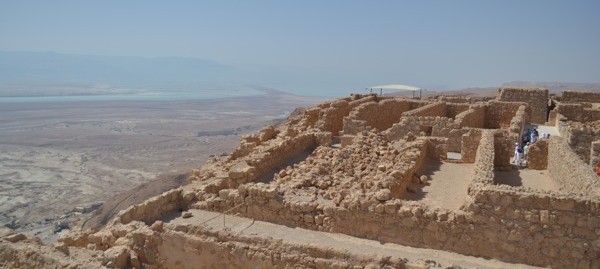 Day 3 – Coming to Life Jun 12
We have survived yet another day in the wilderness. Today we visited Masada, Ein Gedi, and Qumran. Every day, I continue to be amazed at the reality of the Bible. Being able to see the ruins, touch the stones, and feel the wind makes the Bible come to life. Opening your Bible while you are sitting on the rocks or sand that many of our heroes have sat is a life changing experience, and I would encourage each of you to experience it to yourself.
​We began the day on the coast of the Dead Sea, and a short drive along the coast brought us to one of the grandest sites I have ever seen, Masada. Initially, Masada was inhabited by the Maccabees around 167BC, but in the time of Herod, just 100 years later he made it into a grand palace. Not just one palace, but three were built on the plateau's twenty acres. Later Masada became the last stand of a group of people who were resisting the Roman occupation. Just a short distance from Masada is Ein Gedi. This is the location where David was hiding from King Saul. There in the wilderness David and his men were hiding in the caves when Saul came in (1 Samuel 24:1). Instead of killing Saul, David cut the corner from Saul's robe. David could have taken God's promise, to make him king, into his own hands that day, but he didn't. He waited for God's appointed time. We then went to Qumran. There we learned about the Essene culture and its possible ties to John the Baptist, whose ministry took place in the same area. In addition, we then learned about the coming Messiah, Jesus, and his influence on the culture of the day.
It was another awesome day. We look forward to sharing more of these experiences with you as we continue on this journey. Thank you for all of your loving support and prayers.
P.S. I spelled the Zin (not Zen) Wilderness yesterday. Oops.
Today's Photos