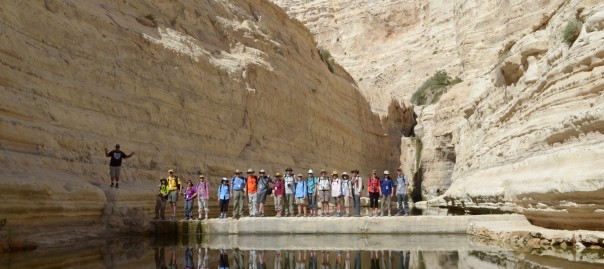 Day 2 – Wilderness Jun 11
"Wilderness"; what do you envision when you hear that word? Today we experienced what the Israeli wilderness is really like. We hiked to the top of a mountain at Ein Avdat, the "Zen Wilderness". We ate and visited with Bedouins in the desert. Then we sat in the ruins of a Hebrew temple at Tel Arad. Finally, we ended with a little rest and relaxation at the Dead Sea.
Today we learned what it is like to live in the wilderness, as the Hebrews did for many years when they were freed from Egypt. Buried in the mountains of the Negev Desert there sits a natural spring that would have been a needed resting area for people like the Israelites travelling through the desert heat throughout the day. As we walked into the mountains, it quickly became clear that this place was unique, due to the spring snaking through the valley of Ein Avdat. Like the trees that are deeply rooted in the valley, we too should be deeply rooted in the Lord. When we do, He will care for us and provide everything we need even in the worst circumstances. Then we hiked up the mountain (with some very steep steps and ladders), back to harsh climate of the wilderness. We walked through the flat dry desert we stopped to visit with Bedouin man who told us about their traditions and their way of life, most importantly their hospitality. Their culture requires that you allow three days of care for strangers when they come to you for shelter. We too as Christians should take special care of those who come across our paths. Next, we visited Tel Arad where we walked through the ruins of an old Jewish temple. We learned about the covenant between Abraham and God. Tel Arad was also the location of a small Jewish temple. This temple was built even though the people were instructed by God to only worship at one temple in Jerusalem. The people, even if the intentions were innocent, were in conflict with the Word of the Lord. We should also be very careful to hear and follow the direction of the Lord.
We have learned so much in such a short amount, and look forward to learning even more over the next week. It has been a wonderful experience, and we appreciate everyone's prayers. We look forward to sharing more as the trip continues.
Today's Photos