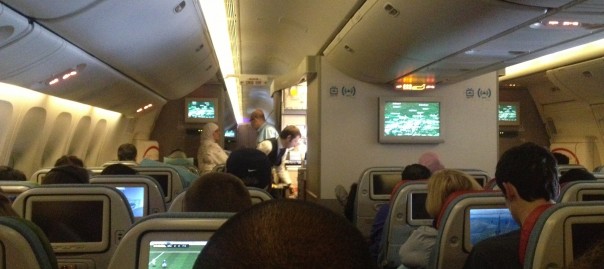 Harmony May 29
Harmony is the word that comes to mind. The day has finally come, and we are headed to the land where our Savior was born, lived, died, resurrected, and ascended into the heavens. I use the word harmony to describe the emotions going on within us, because at the same time, there is a deep sense of peace and giddy excitement. We've prepped our physical and spiritual hearts not really knowing what lies ahead.
There are 31 of us on this trip. We all come from different backgrounds: some are homeschool moms; some are water well diggers; some are pastors; some are war veterans…the list goes on. We are a hodgepodge of people who have had an encounter with a real, constant God in a changing world (I'm writing and posting this blog now from 33,000 ft over Paris, France due to the airlines free wifi). Now, we all have the opportunity to learn what no school, bible college, or seminary is able to teach. The things that lie ahead are only learned in the School of Experience, but our tuition isn't free.
The days ahead will be filled with adventure, hardship, joyous victories, and tearful movements of the heart as we get to know our faith, our Savior, and His life at an intimate level. We are here to learn how to follow even if we don't know it yet.
Please pray for us. We will no doubt experience physical and mental exhaustion as we drink from deep cisterns and take in as much as possible. Don't worry about us or our safety. If you think about it, we're really no safer in Israel than in America. If you do worry, use these next days as an opportunity to grow. Let The Lord stretch you as He will no doubt be stretching us. Read Psalm 20:7 or Proverbs 3:5. Trust Him.
It is said that the desert is where you go to meet God, and we're almost there. Like the first harmonious notes Mozart would have written for one of his masterpieces, our song is just beginning.
Shalom