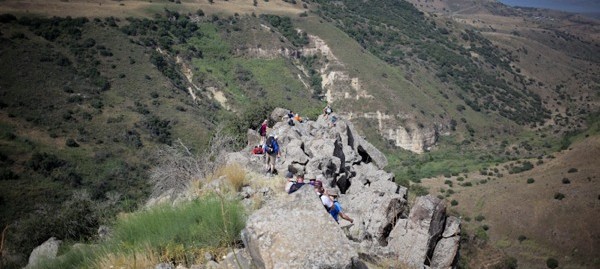 Day 5 Jun 2
Today was a BIG DAY!
Today we saw Gamla, Omrit, the Jordan River, Dan, and Caesarea Phillipi. We worked hard together as a community, and the bonds are growing so strong between us that it will be difficult to separate. Today at Dan, God opened our eyes to an important truth.
If you read the Scriptures about the 12 tribes of Judah, you see that the tribe of Dan is given a specific place to dwell. They live in their given section for awhile, but after some time, they move to another location that is more prosperous, wealthy, strategic, and has much better resources. The problem is that God didn't give them that area. No doubt our Father knew about it, but He didn't give it to them. The Danites did what was right in their own eyes.
The Danites moved to a sweet place. We sat on the massive ruins. We walked through the ancient gates and saw where kings and the men of the city would have sat. We touched the stones and breathed in the hot air. Dan was rich! Everyone who was traveling through the region would have had to pay something here, but the story doesn't end there.
A little later in the Scriptures, we read that the Kingdom of Israel was split in two. Two nations form: Israel and Judah. The king of Israel, Jeraboam, decides that he will no longer worship the God of his fathers Abraham, Isaac, and Jacob. Instead, he sets up two 12″ tall golden calves at the temple of Dan, and he tells the people to worship these two small calves. Why you ask? Because, Jeraboam claims, they are the gods who brought them out of Egypt. At this, I laughed out loud. You probably do too, but you and and I are no different than those Danites.
How many times have we chosen a better job, house, car, etc. over what the Lord wanted? Our passion is not for the text, but it's for taking care of ourselves with what we think is good. Friends, please don't misunderstand me. Those things are not bad. A big house, car, a better job, etc. are not bad things at all, but are they what the Lord has? The answer to that question is different for everyone.
The lesson we took away from the site was that we should peruse God only. From there, he'll take care of the rest.
Shalom
Today's Photos