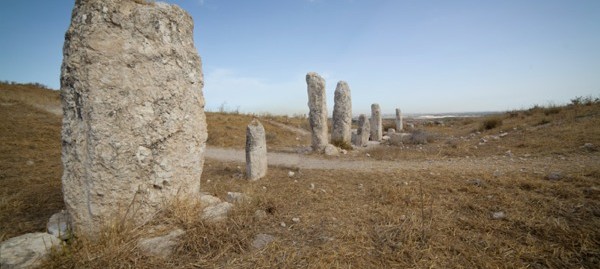 Day 1 – Dead Stones May 29
Today we did A LOT! We saw the place where Samson grew up, where David slew Goliath, where the sun stood still, where Lachish fell, and where David hid from Saul. Outside of these teachings, there were a ton on little lessons as we walked the ancient paths. It was a BIG DAY!
As the blogger, I have the difficult job of communicating to you readers the grandness of our journey. One site not mentioned above is the standing stones of the Canaanites. The pictures for this day show you the immenseness of these stones committed to false gods. They still stand today as a marker or reminder to what their god did some time around 1500 BC. The funny thing is that their story is forever lost.
Now, contrast that to what God has asked of us in 1 Peter 2:1-6. We are called to be living stones…not dead ones such as we saw today. You've got to assume that Peter had stones such as these in his mind as he wrote 1 Peter, and the implications of this are enormous. The purpose of the stones of the Canaanites were to point back to something that happened. The purpose of the living stones are to be building up a living spiritual house. Here's the kicker, God's house and his stones will never be forgotten. God is building a kingdom against which not even the gates of hell can prevail, and the followers of Christ get to participate in an everlasting kingdom.
We were all challenged to consider what kind of story our lives will tell decades and centuries after our deaths. Will it be one of ourselves and be lost OR will it be one that last forever as a living stone in God's kingdom?
Shalom
Today's Photos