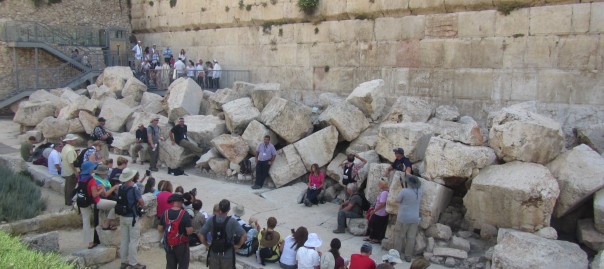 Day 9 – Layers on Layers May 24
Jerusalem—it's complicated. Good stories have many layers, and Jerusalem is no exception. We woke up extra-early this morning to make sure we made it to our reservation for the Rabbinic Tunnels. They consist of caverns opened 30 feet underneath homes in the Muslim quarter that let us walk on the same streets where Jesus would have squinted up at the temple in the sunlight, or jostled with pilgrims and street vendors. Once the site of shops and residences, with vendors selling their wares—it now feels like one part Indiana Jones adventure, one part Smithsonian museum, and one part Sunday School. At the end of the tour, we climbed up through the layers of the city—Canaanite aqueducts, Herodian quarries, Byzantine churches, and French convents—to emerge into the Muslim Quarter complete with modern-day money-changers. (4 for 10! Finest quality! Better than Starbucks! Special deal for you!)
After a short walk, our world quickly changed again, and we found ourselves behind security, guarded by Israeli police with sub-machine guns, and in front of the Western Wall. Ultra-Orthodox Jews all around us were praying/singing the daily portion, as close to the Holy of Holies as they are allowed to get. I felt out of place in my western clothes and disposable kippa, yet no one stopped me as I went and put my hand on the wall to pray.
The Western/wailing wall with the Dome of the Rock and Al Aqsa Mosque in the background.#gtitours @northcoasttalk twitter.com/gtitours/statu…

— GTI Tours (@gtitours) May 24, 2013
A little ways away and several layers of excavation below the Western Wall plaza, we sat down for some teaching time in the Archaeological Park and Southern steps. Chris and Rich reminded us that we don't need to go to the Holy of Holies to meet God anymore. When the temple veil ripped in two, God came out to live in his people…in you and me. What an honor to contemplate that fact here in Jerusalem where He walked! True to form, and as if trying to interrupt our thoughts, Jerusalem again showed us its complexity. As we sat on the Southern Steps listening to Chris speak, we heard the rise and fall of Arabic through loudspeakers on the Al Aqsa mosque just yards above us. See? Complicated.
After simmering (maybe broiling is a better word?) in the heat, we trooped back onto the bus for an air-conditioned drive through New Jerusalem with its trams, traffic circles, and shopping malls. All around us people hurried in and out of shops buying the food and drinks they needed before the start of Shabot (Sabbath) this afternoon. I suppose I knew were we were headed, but I don't think anyone can ever be truly ready for the Holocaust museum. Though the sun shines, and the carob trees grow, there is great sadness here, especially as we learned how personal the Holocaust was to Ronen's family (our guide). 6 million little tiles, 1.5 million little candle reflections for the children, the names of concentration and death camps, broken columns, eternal flames–it's a lot to take in.
A doorway at Yad Vashem. #gtitours @northcoasttalk twitter.com/gtitours/statu…

— GTI Tours (@gtitours) May 24, 2013
Reporting from Jerusalem, Ben Huntley
Today's Photos