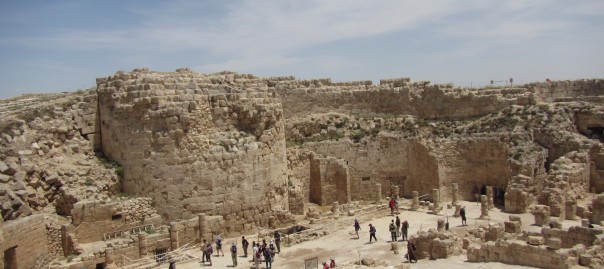 Day 8 – The center of it all May 23
Hey there! We have arrived in Jerusalem and will spend the rest of our days here touring the Holy City and nearby areas. Since the beginning of our trip, we have been working our way through Israel, the biblical stories, the historical, political and social movements of the people of Israel – and now, we are here in the center of it all. I feel like one of the pilgrims of ancient times, who has made the ascent to the city. Anticipation and excitement filled our bus of weary travelers last night.
We started at the Temple Mount this morning. This is where the Jewish Temple stood, where it is believed Abraham came to sacrifice Isaac, and where Muslims believe Mohammed ascended to heaven. The mosque and Dome of the Rock reminded us that this place was not a place for neither Jews nor Christians. We could not pray, nor could we enter any of the sites. Our study books were confiscated because the Sh'ma was printed on the cover. I felt as if we were walking on eggshells and was relieved to move on. We came around to the Western Wall and witnessed a joyful sight. Today was a happy day for many Jewish families who came to celebrate their son's bar mitzvah. The sound of drums, shofar and singing filled the gate entrance to the Western Wall. It was such a contrast from the somber-ness from the top.
Temple Mount #gtitours @northcoasttalk twitter.com/gtitours/statu…

— GTI Tours (@gtitours) May 23, 2013
From there, we went through Hezekiah's tunnel, which was dug to bring fresh water from the Gihon Spring inside the city wall during the time of the Assyrian siege of Jerusalem. Several of us braved the cold, wet (clean) water and the VERY dark tunnel to marvel at the engineering that went into building this tunnel. Hezekiah trusted God to save Jerusalem, but he didn't sit on his hands and wait for the deliverance. He took charge to take care of his people, too.
Our next stop took us outside of Israel and into Palestinian Authority-controlled West Bank. We went to see the ruins of Herod's palace called Herodium, outside of Bethlehem. It sits on top of a huge man-made hill, which Herod commandeered so he could see Jerusalem, just because he could. His love for the biggest and the best has been evident at Masada and Caesarea. This site is just another example of a king who loved excess and didn't care what it cost in resources or personnel to indulge himself. It was very hot today on that hill, and it was very tempting to wish for a moment that I was Herod and that I could order a giant air cooling device RIGHT NOW. Oh, I can easily become Herodian and want comfort more than character. . . convicted.
This is where Herod the Great/Terrible was entombed. #gtitours @northcoasttalk twitter.com/gtitours/statu…

— GTI Tours (@gtitours) May 23, 2013
We moved on to Bethlehem, where we had lunch of shwarma (chicken, salad greens and French fries in pita), then on to the Church of the Nativity to see the place where Jesus was born. There are three churches that were built there and we may not know for sure if this is the exact site, but it could be. After our time in the Galilee area, where Jesus' ministry took place, I felt a little weird that such a big deal was made about where he was born. His birth was a big deal and it impacted humanity like no one ever had or will, but the "religionizing" of it was a bit much for me.
I'm not going to lie – Bethlehem was a bit of a letdown, but being here in Jerusalem is quite special. This is where Jesus came to give his life for us. Although the exact locations are not clear, we know he was here and we know what he did. I am trying to get past the politics, religiosity, commercialism and experience the heart and significance of this city and to love the people for whom Jesus died.
Thanks so much for praying for us—we really appreciate you! We are learning and growing in ways that we can't describe. Thanks for sharing this experience with us.
—lynn tsunekawa
Day 8 wrap up video

Hezekiah's tunnel video

Herodian

Today's Photos