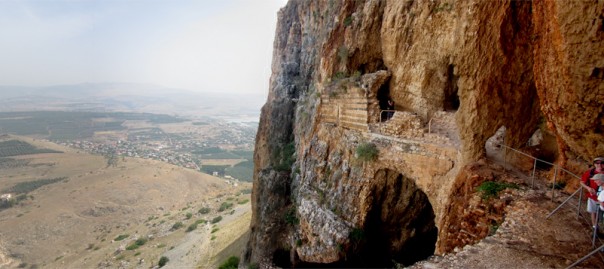 Day 4 – At the Crossroads May 19
Today we walked in the footsteps of Jesus. We left the vast, dry desert land of the Patriarchs and entered the lush, verdant countryside of the Galilee. At the crossroads of three continents, in a roiling time between conflicting peoples, this is where Jesus started – and later ended – his ministry, this is where he performed over 90 percent of his miracles. This is where he brought his message that life is bigger than time, and that we can live eternally with the Prince of Peace.
Over two-thousand years later, we stepped in for just a short moment. To imagine; to see what he saw, to step where he stepped.
Pastor Paul Savona started off our morning with a short devotional on the shore of the sea, which was concluded by us all joining to sing "Amazing Grace." Together we enjoyed a few moments of praise as we prepared for a whirlwind day.
Next, we headed to Mt. Abel, where Jesus is said to have retreated to pray. Some of us hiked, and others of us rode the bus up, but I'm sure we'd all agree that for Jesus to have made it to the top, he would have been sure, steely, determined and strong. Once there, we had a brief teaching from Pastor Chris Brown, and then some time to stop and contemplate – the foothills and Sea of Galilee our view, silent winds laced with the chirping of birds our accompaniment.
Crusaders Fortress on Mount Arbel. #northcoastchurch #gtitours twitter.com/gtitours/statu…

— GTI Tours (@gtitours) May 19, 2013
Atop Mount Arbel overlooking the Sea of Galilee. @northcoasttalk#gtitours twitter.com/gtitours/statu…

— GTI Tours (@gtitours) May 19, 2013
After that, we headed over to one of the region's newer archeological finds, Magdil, from which Mary of Magdalene is suspected to have come. The synagogue and ritual baths that were found indicate this would have been a bustling town Jesus would have frequented.
Sitting in a synagogue in Capernaum where Jesus taught. #gtitours@northcoasttalk twitter.com/gtitours/statu…

— GTI Tours (@gtitours) May 19, 2013
(And speaking of frequented, we popped into a local restaurant for lunch, for some falafel with tahini – a very popular Israeli "street food.") On the way out, the proprietor exclaimed, "Tourists never come here!" You could tell they were glad to have us, and we were glad to be there.)
We continued from there over to the city of Tabgha. Chris painted the scene…Burly fisherman, with empty nets, until Jesus tells them to go out and try again. And when they did, their nets were so full, they started to break. It's here Jesus calls them in and asks them to drop their nets; to follow Him and instead become fishers of men.
Great teaching on the shores of the Sea of Galilee. #gtitours @northcoasttalk @_chris_brown twitter.com/gtitours/statu…

— GTI Tours (@gtitours) May 19, 2013
This is where Jesus' public teachings and miracles really begin. Our next visit found us at Capernaum – just a few miles away. This is where the home of Peter was, and the remnants still are today. This is where Jesus brought Jairus' daughter back to life, and healed the woman who'd been bleeding for 12 years. The ruins here are extensive and give a clear view of what the synagogue and city center would have looked like during Jesus' day.
Next up, we hit the ancient ruins of Chorizin. Just a few miles away from Magdil, Tagbha and Capernaum, this is another city where Jesus would have likely spent a considerable amount of time. And it's here that the ruins give us a clearer picture of first century family life. Together they worked, together they lived, and together they slept. This is referred to as "insula" – a community or group of people together – and what God calls us to still today; to be in community with Him and our family of believers.
We finished up the day on the Mount of Beatitudes. Sitting on boulders, on a hillside overlooking the sea, with the wind rustling the grasses around us, we read through Matthew 5-7 together and were "amazed at his teaching," just like our counterparts 2,000 years ago.
Day 4 wrap up video

Chris's overview of Jesus home town.

Chris climbing Mt Arbel

Chris's overview of Mt Arbel

Chris's overview of the sermon on the Mount

Today's Photos