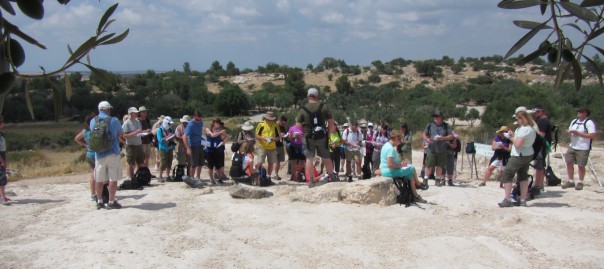 Day 1 – From the Mountains to the Desert May 16
Shalom from Israel!  Our guide says that Israel is the size of New Jersey with the weather of California.  We agree! Morning drizzle gave way to a warm sunny day. After a hearty breakfast that included Mediterranean  staples like warm breads, cheeses, yogurts and fruits, we started morning devotions at the edge of the Bible camp we stayed at last night. Located on a tel, or hill, in the mountains of Judea, the camp overlooks the valley where the Philistines seized the Ark of the Covenant (and kept it for 20 years). Pastor Chris shared the story of Hannah, a woman whose prayers for a child began the dynasty of Israel.  From there, we toured the gardens, where we learned about terrace cultures built into a hillside, and how the heavy agricultural society harvested olives, dates, figs, wheat, barley, grapes and pomegranate.
Learning about the 7 species of Israel (Figs, Wheat, Barley, Olives, Grapes, Pomagranite, Dates) @northcoasttalk twitter.com/gtitours/statu…

— GTI Tours (@gtitours) May 16, 2013
We stopped at Beth Shemesh to hear the story of Samson, and the compromises he made in his life after taking the Nazarite vow. We learned that God is bigger than our bad choices, and was still able to use Samson.
Chris Brown wearing shoes. Truly a rare sight to behold. @_chris_brown @northcoasttalk #gtitours twitter.com/gtitours/statu…

— GTI Tours (@gtitours) May 16, 2013
Later, we hiked to a tel overlooking the Valley of Elah, where David defeated Goliath, and descended to walk along the creekbed where David may have gathered his rock that slew the giant.  Chris spoke about what success looks like in God's eyes…check out his audio and video files from today!
Learning at Tel Azekah, the David and Goliath lookout. @northcoasttalk#gtitours twitter.com/gtitours/statu…

— GTI Tours (@gtitours) May 16, 2013
The underground city at Markesh was fascinating. I felt like I was in the movie, Indiana Jones, (minus the snakes and rolling boulders). We ducked into tunnels, climbed up and down ancient stairs, and enjoyed the coolness underground, just as the city's people did so long ago. Now we're at the Dead Sea, checking into our hotel and enjoying yet another microclimate of Israel, the desert. Ready to sweat!
~Jenna S.
Chris – David and Goliath

Meresha Time Lapse

Chris teaching at Kyriat Ye'arim

Day one wrap up video

Today's Photos